Bas Blanken
Service Management Consultant & Agile expert
Last week saw the publication of the first part of ITIL 4: ITIL Foundation. In this blog I'll answer all your burning questions about ITIL 4. Such as: What's new in ITIL 4? And does the new ITIL version help you adapt to developments such as agile and DevOps?
What exactly has been published?
At the end of February 2019 ITIL 4 Foundation was published. This book describes the basics of the new ITIL version and serves as study material for getting your ITIL Foundation certificate. The publications of ITIL Managing Professional and ITIL Strategic Leader are planned for the second half of 2019. If you're new to ITIL theory, we recommend reading this introduction to ITIL first.
What is ITIL 4 Foundation?
The title says it all, ITIL 4 Foundation explains the fundamentals of ITIL 4. It contains all concepts, terms and processes to get started with the new version of ITIL. ITIL 4 distinguishes the following 4 elements:
Key concepts of service management
4 dimensions of service management
ITIL Service Value System (SVS), which also comprises the guiding principles
ITIL Management Practices
Here's a brief explanation of each element:
Key concepts: value, co-creation, outcomes
ITIL 4 Foundation lists several key concept that are vital to fully understanding the framework. Amongst those you'll find some familiar concepts such as service providers, stakeholders and risks. But ITIL 4 also introduces new concepts.
Contrary to ITIL v3, ITIL 4 doesn't focus on delivering services but on providing value. Providing value is not a one-way street, but something you do in co-creation with your customers. ITIL 4 doesn't focus on following a process, but on outcomes. Customer experience is one of the most important outcomes.
The 4 dimensions of service management
While ITIL v3 mostly explained how to implement each of the 26 processes, ITIL 4 has a wider scope. According to the new ITIL version, every service you design or deliver should take into account the 4 dimensions of service management.
Organizations & people
Information & technology
Partners & suppliers
Value streams & processes
Service Value System & Service Value Chain
ITIL 4 introduces value systems and value chains.

The ITIL Service Value Chain (SVC) is an overview of all activities you can do to provide value. These activities are Plan, Improve, Engage, Design & Transition, Obtain/build, Deliver & support. You don't need to perform all activities for every service delivery, and there's no fixed order for performing the activities. For a bugfix, you'll perform other activities than when you're replacing your server farm, for example.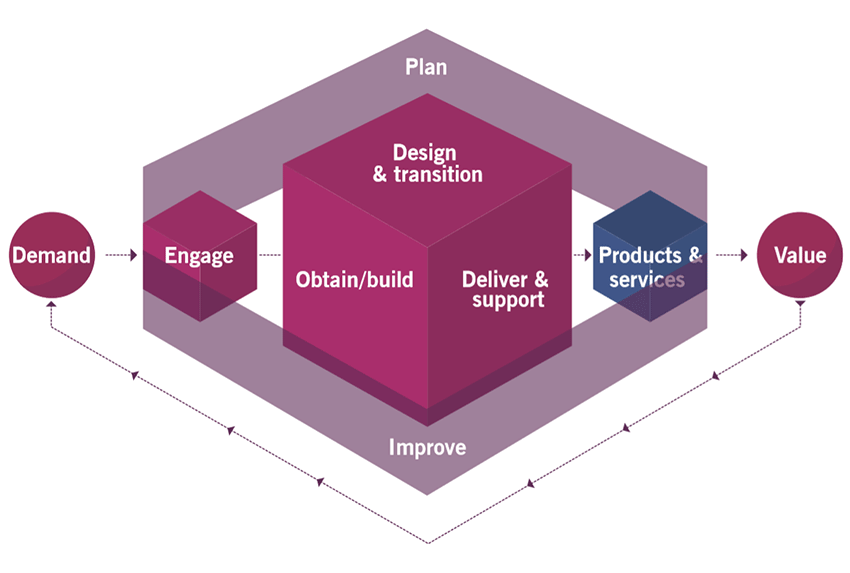 Image: ITIL Service Value Chain with all activities, source: ITIL® Foundation, ITIL 4 edition. Author: AXELOS
The ITIL Service Value Chain is part of larger system: the ITIL Service Value System (SVS). The ITIL SVS describes all factors that impact your Service Value Chain, such as governance, the guiding principles and your continuous improvements.
ITIL 4's Service Value Chain and Service Value System have replaced ITIL v3's service lifecycle.
The guiding principles have moved to center stage
The guiding principles introduced in ITIL Practitioner, have moved to center stage in ITIL 4. The 9 principles in ITIL Practitioner have been updated and reduced to the following 7 principles:
Focus on Value: everything you do should in some way add value for your customer, or in some cases your stakeholders.
Start Where You Are: when you start improving something, don't start from scratch. Keep what works for your organization and improve what doesn't.
Progress Iteratively With Feedback: Implement your improvements in small steps, also when you're dealing with large projects. After each step you evaluate your work and adapt where necessary.
Collaborate and Promote Visibility: collaborate closely with other parties, such as your customers and suppliers, and show your organization regularly what you're working on and why.
Think and work Holistically: Don't think of your IT organization as an island, but as part of a network of various parties who collaborate to provide value for your customers.
Keep it Simple and Practical: Keep your work and your processes as simple as possible, and remove every step that doesn't add value in some way.
Optimize and Automate: Try to optimize or automate tasks where possible, but be mindful that this doesn't hurt your customer experience or result in hidden unexpected costs.
ITIL Management processes are now called practices
Most ITIL processes you know from ITIL v3, such as Incident Management, Service Level Management and Capacity Management, are still present in the new version and haven't changed much. What has changed though, is that the 26 processes are now 34 practices.
Why practices? Because ITIL 4 not only describes a process flow, but also other factors that are important for the success of such a process. What skills your team needs, for instance. How to cooperate with your suppliers. Or which technology can help you to reach you goal.
> How does ITIL 4 handle problem management?
What are the differences between ITIL v3 and ITIL 4?
I mentioned a few already, but here are the differences I find most remarkable:
From control to guidance
ITIL v3's processes have been designed to stay in control of the work that's done. Ideally, it shouldn't matter who delivers a service: the more predictable the process, the better. ITIL 4 doesn't tell you exactly which steps to take to deliver a service, but focuses more on why you're delivering a service – namely to provide value to your customers. The 7 guiding principles help you determine how to deliver a service that works best for your organization.
More focus on people
ITIL v3 consists mainly of process descriptions, but doesn't say much about the people who deliver those services, or the customers receiving them. ITIL 4 focuses more on the human aspect of the service delivery. You can mainly see this in the strong focus on customer value and co-creation. It also provides some tips here and there about service staff, but this part is unfortunately not very extensive.
Scope now also includes partners and suppliers
In ITIL v3 there's one process that deals with collaborating with your suppliers: Supplier Management. This process mainly discusses contract management. Since IT organizations have started to outsource more and more services, a good collaboration with their service providers is very important. This is reflected by the 4 dimensions you need to take into account when designing or delivering a service.
And, is ITIL 4 an improvement over ITIL v3?
So far, only ITIL Foundation has been published, so I'll have to base my judgement on that. My first impression is that ITIL 4 is definitely an improvement.
I really like the idea behind the new version. I see the value of a more agile approach to service management, based on customer value instead of processes. In that light, it makes sense that the guiding principles are prominent in ITIL 4. It's now much more explicit that you shouldn't try to implement a complete ITIL process from scratch, but that you should start from your current situation and implement small improvements that are relevant to your organization.
The examples used throughout the ITIL Foundation book are useful too. They make it easier to translate theory into practice.
At the same time, ITIL Foundation can be a bit heavy on buzzwords – especially the first few chapters. Using terms like 'holistic', 'co-creation', 'value stream' and 'iterations', ITIL clearly responds to some market trends. This is a good thing in itself, but using those terms also means setting expectations that you will explain how they apply to service management. What does it mean to 'work and think holistically'? How does this affect your day-to-day work? Who should you collaborate with more? And how? ITIL 4 answers some of those questions, but definitely not all. I hope and expect ITIL Managing Professional and ITIL Strategic Leader to go into those questions more in-depth.
Is ITIL 4 the answer to Agile, Lean and DevOps?
To me, this was one of the vital questions I had about the new ITIL version. Will it help you to combine ITIL with the agile ways of working that are getting more popular by the day?
The answer: to some extent, yes.
ITIL itself has become more agile. This shows from the shift from process to guiding principles, and also in the principles themselves. Focus on value, progress iteratively, keep it simple – these are values that clearly resonate the agile mindset. This makes it easier to collaborate with agile team, since you share the same values. To prove ITIL 4 is agile-proof, Axelos recently published a case study on Spotify, a company renowned for their advanced adoption of agile practices.
ITIL 4 also leaves some questions unanswered concerning Agile, lean and DevOps. The terms are mentioned quite often in ITIL Foundation, but often in passing. It offer some examples and suggestions on how to combine ITIL and agile ways of working, but I hoped for some more in-depth answers to questions like: how can an SLA-based service desk and an agile back office team collaborate effectively? Maybe this will be expanded upon in future ITIL publications.
Which of your expectations weren't met?
I expected more mentions of Enterprise Service Management. ITIL 4 emphasizes a holistic approach, collaboration with your customers and suppliers, but hardly mentions the collaboration with other supporting departments such as Facility and HR. In my opinion, this is essential for providing excellent services.
I would also hope for more guidance in how to decide which practices are relevant for your organization. One of the main points of criticism about ITIL v3 was that it offers 26 processes, and that they all seem equally relevant. Where are you supposed to start? ITIL 4 partly answers that question by stating you should start from where you are, but gives no further guidance on which practices could be relevant for your situation, for instance based on the maturity level of your organization.
Do you need to renew your ITIL certificate?
It depends. In any case, it's a good idea to familiarize yourself with the contents of ITIL 4. A lot has changed compared to ITIL v3, and various new concepts were introduced that are necessary to grasp the new version. Whether you prefer doing a training or read ITIL Foundation, that's up to you.
Do you already have plans to sign up for an ITIL Managing Professional training or Strategic Leader training? Then it might be better to wait a bit: the updated versions of these trainings are planned for the second half or 2019.
For detailed information on ITIL certificates, it's best to check Axelos' ITIL FAQ section.
Want to keep up to date on ITIL 4?
In future blogposts we'll dive deeper into the nuts and bolts of ITIL 4. Want to stay up to date? Sign up for the blog update newsletter below.