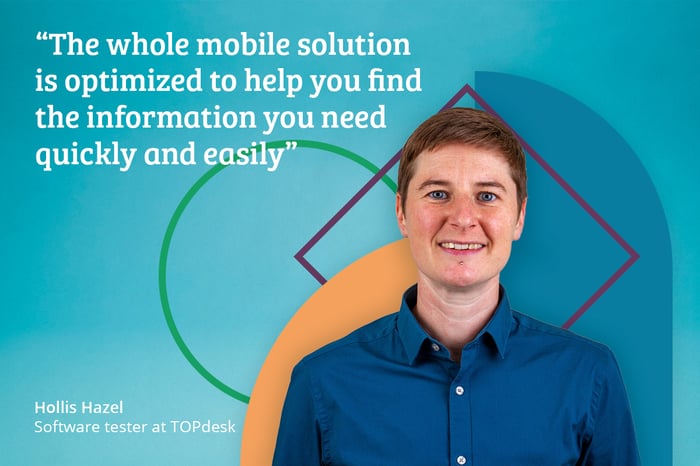 You've probably seen the upgraded TOPdesk Mobile make appearances on your feed, or in your mailbox, over the past couple of weeks. That's because we can't hold our excitement about our upgraded web app's functionality: it's the tool that TOPdesk operators can use to do their work with ease and efficiency while being on-the-go. And, of course, nothing would have been possible without our team of developers, software testers, designers, and customer representatives, who are tirelessly devoted to creating the tools to help you provide excellent service delivery at all times.
To let you in on the development process first-hand, we'd like to introduce you to Hollis Hazel, TOPdesk Software Tester. They've been closely involved in the upgrading of TOPdesk Mobile as the eyes and ears to our development team. Hollis spoke with us about the ways in which Mobile makes work easier, the development process behind certain features, and future Mobile plans. Continue reading below to find out all about it!
Why do you think Mobile should be, and is, important for our users?
Before TOPdesk Mobile, operators would note their progress down on paper and return to the office at the end of the day to add this information to TOPdesk. But why return to the office, when you can simply update your tasks on site? The new TOPdesk Mobile puts TOPdesk in your pocket, which is much more convenient for all of those operators on-the-go!
And Mobile is not just about going digital, it also makes information exchange instantaneous. Being able to see updates to your tasks in real time means that the information you have is always up to date.
Could you take us through the thought process and development of the Change Activity feature?
The whole mobile solution is optimized to help you find the information you need quickly and easily. When it came to adding Change Activities to the mobile web app, our main priority was to make sure that operators have all the information they need to do their job, while keeping the way that we display information in the app consistent between task types.
Several development teams worked together with a user-experience designer to make the app as user-friendly and consistent as possible. This allows us to give you Incidents, Change Activities and Operational Activities in one overview, for example. It also helps you find what you're looking for that little bit quicker when viewing the task details, regardless of the task type.
Every step of the development process has involved technical experts, functional testers, design specialists, customer representatives and, of course, feedback from our customers. We know that Change Activity operators often look at the main Change to find where they need to go, so we made sure to add details of the main Change to the Change Activity view.
And what is the reason that the Task Overview and Work Documentation (with text, photos and video) features are among the first ones added to the upgraded Mobile web app?
Assigning tasks and registering work are the most basic concepts around which TOPdesk is built, so it made sense to start with these. Every day starts with finding your tasks for that day. Once that's done, you need all the information that's relevant for you to get the job done. And once your work is complete, you want to document exactly what's been carried out. That's why the new app offers photo, video and file uploads in addition to the option to add text. In the old app this was only possible when registering a new Incident.
How do you see TOPdesk Mobile evolving in the future?
I'm quite proud of what we've developed so far. Besides the awesome features we've talked about, there's a lot of work in there that isn't immediately visible, such as improved performance, smarter loading and making a responsive design that will work on any screen size. Not to mention that the new web app is one of TOPdesk's first interfaces to be fully accessible for screen readers.
The immediate future will see us continuing to expand our feature set and improving on the features we already have. We want to make the app work offline, and have it available for download on Google Play and the Apple App Store. Our long term vision is to offer more parts of TOPdesk on mobile, so that wherever you go to work, TOPdesk is there when you need it.
Curious to know more?
Read our blog to dive deeper into all the newly added perks and features that come with the upgraded TOPdesk Mobile web app.
Ready to go Mobile, but need some extra help?
Follow our Mobile webinar (in Dutch), where we'll take you through all the steps you need to take to successfully implement our web app. Register here!