We're thrilled to announce that the upgraded TOPdesk Mobile web app is here! Now you can manage Change Activities, document your work better and handle Operational Tasks, while being on-the-go. And that's not all. In this blog you'll find out about everything that makes TOPdesk Mobile your go-to tool for easier and efficient work.

Did you know?
TOPdesk offers a Mobile web app to support operators on-the-go? Well, if you didn't know, now you certainly do! If you're an operator, whose work involves moving around the office, visiting on-site locations, and helping your organization run as smoothly as possible, then we're sure you'd agree with us: a mobile app doesn't just come in handy; it's necessary.
Up until now, TOPdesk Mobile users could create first line incidents, change an incident's operator and processing details, or quickly contact a caller—all while being on-the-go. But we're always searching for newer and better ways to support our users, and so upgrading TOPdesk Mobile has definitely been part of our plan of fully satisfying the needs of a flexible and hybrid way of working.
That's why our teams continually join forces and work out ideas on how to transform TOPdesk Mobile into the tool you can easily reach out for when you're on-the-go; without the hassles of double administration, delayed task updates, or any overly complicated interfaces.
Time to look forward
Creating and solving incidents on the spot, working on Change Activity trails in real time, or looking up an incident's number for specific requirements—these are just a few of the daily operations that the upgraded TOPdesk Mobile web app enables you to do. Now, you can complete all these tasks you previously put extra effort to do by having to return to your desk or to memorize large chunks of information. In this way, you're saving up extra time and energy for what really matters: helping your colleagues and customers perform at their best.
Below you can read about all the features that make TOPdesk Mobile your go-to place for flexible and hybrid work. And, for an even better introduction and integration experience, we recommend that you already install, open and explore the web app and its features as you continue reading below!
But before, a bit about the early Mobile days
Disclaimer: If you're an avid TOPdesk Mobile user already, that's great! But you'd perhaps want to skip to the next subchapter of this blog, as the following one is all about revisiting the older sibling of TOPdesk Mobile web app and its features, which we confidently assume that, by now, you're a fan of.
When first launched, TOPdesk Mobile directly responded to the most urgent needs of the operator on-the-go: that is, remaining updated and informed on-the-go while also ensuring their colleagues and organization work smoothly. How exactly did TOPdesk Mobile respond to these pains and needs?
Register first line incidents
First and foremost, registering new incidents while continuously moving about during your workday is essential if work is to flow uninterruptedly and efficiently. TOPdesk Mobile allows for the operator on-the-go to quickly register a new incident directly via their smartphone through just a few simple clicks within the app's Overview.
Mobile incident details
Not only this, but an operator can also add, or change, the incident's Operator and Operator group. If an anomaly has been detected, the operator can register it in the incident by changing its processing details via just a couple of quick taps, making sure tasks are always up-to-date. No need to go back and sit down at your desk; just put TOPdesk in your pocket and forget about trying to put down unnecessarily memorized information.
Change an incident's status at the time of action
Does an incident need a supplier's input? Or perhaps a caller needs to react on it? Then the operator can change the incident's status via TOPdesk Mobile in real time, without returning to their desk between tasks. If an incident is finished, it can be just as easily closed at the time of action, allowing the operator to go about their workday uninterrupted.
Contact a caller on the spot
If a caller has to be contacted, the most desired way to do so would be directly on the spot. That's where TOPdesk Mobile comes in, allowing the operator to communicate with callers immediately when the need arises. Using our web app, operators can choose to either email a caller via their default mail software (Outlook, Gmail), or call them right away.
Task Overview
Oh, and did we say that it's possible to have a Task Overview? That's right. Every work day starts with knowing your tasks for the day, and operators on-the-go can quickly access their task routine at all times during their day, without having to consult their workstation anymore.

TOPdesk Mobile: revamped
Tip: You can now turn off the old Mobile web app directly and automatically via the Functional Settings feature on your desktop. Once the new TOPdesk Mobile is activated, you're automatically redirected to the new web app. If the upgraded app does not suit your needs fully yet, you may switch the old TOPdesk Mobile back on and simply wait until the newer app fits you better.
TOPdesk Mobile started off strong, but that's no occasion to stop or slow down. IT staff and Facility Managers are on the clock, solving problem after problem, at various locations and across departments. And while the above-listed mobile features certainly optimize their routine, here at TOPdesk we're relentlessly driven by making the operators' work as efficient as possible.
Filter tasks by operator and branch
Let's hit it off from where we last ended; Task Overview, that is. The upgraded TOPdesk Mobile allows you not to merely oversee and sort relevant incidents, Operational Activities and Change Activities, but to also filter and find tasks by operator (Own or Group) and branch. This translates into a more focused work routine and better prioritization.

Search incident information on the spot
There's high chances something needs to be looked up on the spot. Imagine you bump into a colleague or a customer, who has a question about their incident. Having to go back to your desk to search for information about an incident is a hassle that you shouldn't have to go through while working on-the-go. Now, within moments and via few simple clicks, operators can use TOPdesk Mobile's incident number search feature and access information at the point of action; regardless of place and time, and always remaining up-to-date.

Create and solve incidents in real time
It's also likely that an operator on-the-go encounters possibilities for an incident to be created, or to be solved, yet thus far there's been one key impediment to this process: the need to go back to the big screen. That's why we revamped TOPdesk Mobile with the intention to make creating and solving incidents as effortless as possible; a must-have feature for successful mobile working. And, to make sure this feature is as optimal as the one used on a desktop, we've introduced the option to make your incident replies invisible to the caller.
Document your work
While TOPdesk Mobile's older sibling allowed operators to register an anomaly spotted on-the-go, the new web app enables an even more thorough work documentation; with text, photos and videos, recorded and uploaded directly via your smartphone.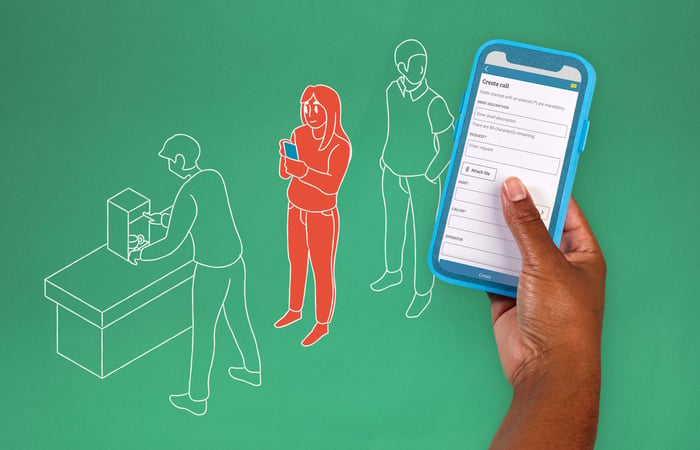 Change Activity
We can confidently assume that the new Mobile Change Activity feature—already a most beloved feature on TOPdesk—holds myriad prospects for the operator on-the-go. Checking and updating change activities is such a crucial part of an operator's daily work routine, and having to consult a desktop for each and every update is a notably inefficient way of working on-the-go. That's why the revamped TOPdesk Mobile simply had to have the Change Activity feature at its heart.
Not only can operators add, close or skip a Change Activity while on-the-go, but also, TOPdesk Mobile now allows operators to add actions to progress trails, switch operators, and change an activity's status. It's often the case that changes have to be completed on tight deadlines, and it's an operator's interest to have Change cards reflect reality as closely as possible and at all times. With Change Activity on Mobile, operators on-the-go are empowered to complete tasks and keep up-to-date by eliminating duplicate efforts and any restrictions posed by a desktop workstation.
Operational Activities
If there's periodic maintenance and regular check-ups that need to be done across sites or throughout large office buildings, carrying a laptop or a stack of papers at all times is a hassle that operators shouldn't have to go through. Ultimately, it results in double administration that lowers efficiency and ease of work. To make working on-the-go effortless, we've introduced Operational Activities (or, as our peers in the UK would say, PPMS) as part of the new TOPdesk Mobile web app. Take care of the day-to-day routinely tasks directly from your pocket.
Screen reader availability
Last, but definitely not least, the upgraded TOPdesk Mobile is our first interface with fully integrated screen reader availability. We don't believe that work on-the-go is convenient enough without this feature, and so we're specifically proud to introduce it within our new mobile web app.
What to expect
We're currently busy with developing the Change Activities feature even further, making TOPdesk Mobile available offline, and improving Overview and work documentation, alongside continuously upgrading other features. Keep on eye on this blog, our Product Newsletter, or our very own Mobile page to stay up-to-date with all new things Mobile!
Help us shape the future
Is there a feature you'd love to see become part of TOPdesk Mobile? Or did we miss out on an already existing option from the desktop solution? Then share your opinion via the feedback form in the app and help us define the future of mobile working.
Not convinced about TOPdesk Mobile yet? Check out these 6 daily situations, where TOPdesk Mobile is your go-to tool for easy and efficient mobile working!
You're almost ready to go Mobile, but need some integration guidance? Follow our TOPdesk Mobile webinar (or the Dutch version) to get all the ins on how to transfer to a mobile work mode.