On the Service Management blog, you'll often read about how a great service portal ensures users can help themselves. You'll find out how to design a more user-friendly Self-Service Portal and the steps you should take before starting to make sure you build a great Self-Service Portal. Since this blog is about tips and tricks, I thought I would share 5 more practical things you can think about when designing and customizing your Self-Service Portal.
Start with the basics
Know what you want your Self-Service Portal to do for your customers before you start building it. Design your SSP with this goal in mind. After you have a basic SSP available, you can start utilizing the more specific features available in TOPdesk. Make sure that your portal is clear and simple to use, then look into how you can improve your users' experience even further.
Discover the possibilities of your portal
Did you know that:
you can add FAQs to your services to answer any question a customer might have before even pressing 'send' on their request?

you can limit which tiles a customer sees in the SSP?
callers can leave feedback on calls?
Take a look at knowledge item KI 9422 to find out ways you can get more out of your SSP. This knowledge item also contains information to help you troubleshoot certain problems you might encounter.
Customize your SSP for your different users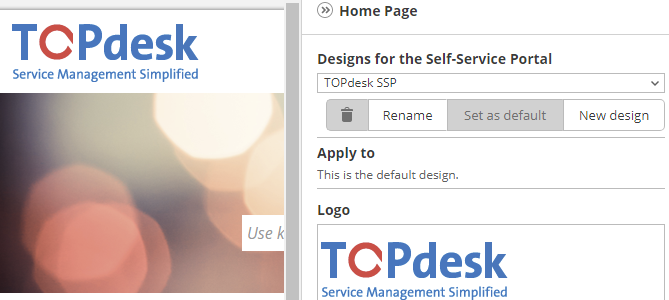 Your customers don't all have to see the same SSP. Set up a custom design per branch in your SSP so that callers easily identify the portal they're using. For the content of your SSP, indicate per tile whether a specific branch, department, budget group or person group can see the tile. With different filtering options, you design a customized portal for each customer. You don't have to worry about users seeing something they're not supposed to and you can publish everything you offer in your SSP.
However, not everything is customizable. If you delete a tile for example, it will disappear from all your SSP designs. Instead, work with the availability of the tile to prevent customers from seeing it.
Use the holiday style kits
Want to surprise your customers with a special SSP for the holidays? Check out the style kits on the marketplace. In these style kits, you'll find special images for your tiles, a colour guide, a banner and an SSP login screen. Whenever there is a style kit available we will let you know via a news item on the extranet, or you can periodically check the marketplace.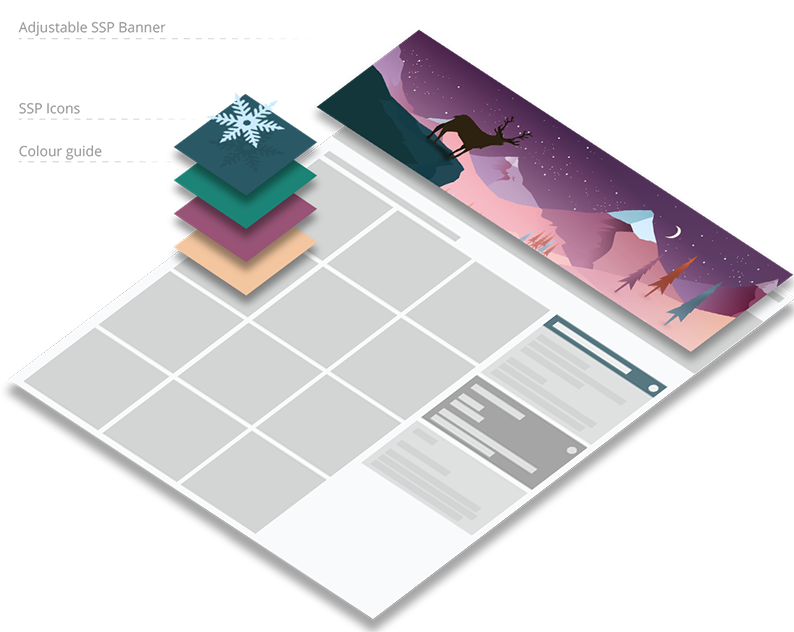 Find inspiration for your SSP
Do you feel inspired to get started, but you don't know what to do? If you need some ideas for getting started, TOPdesk consultants are available to help you out. If you want to have a quick browse, check out TOPdesk's own SSP: the Extranet. Here you'll see the most recent style kit, if applicable. There are also different tiles to contact TOPdesk. Check out KI 9422 for more information on how to set any of these functionalities if you are interested.
Let us know if these tips help you get more out of you SSP in the comments below and don't forget to check out blog.topdesk.com for more inspiring articles on service excellence and the SSP.
Never want to miss out on important changes in TOPdesk software? Subscribe to the product update newsletter and you will receive compact emails with new feature highlights in TOPdesk.