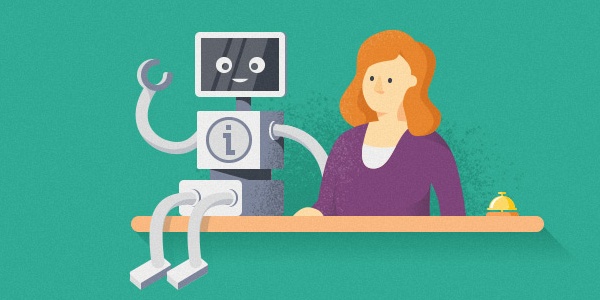 You're currently able to log in to the Operator's Section and Self-Service Portal simultaneously. Soon, you'll only be able to have a single session active at once. Read on to find out why we are changing login and what you can expect.
From client to web application
The Self-Service Portal was first introduced in 2003, as a first step in helping your callers become more self-sufficient. Via a web portal, callers could register and track calls. Operators would process these calls via a Windows client. Your role determined how you accessed TOPdesk, and in turn influenced the current structure of TOPdesk.
But fast forward to today. Everyone accesses TOPdesk via a web application. As a result, TOPdesk has two sides or "realms" to log into: one for operators and one for end users. Each realm has different functionalities to fit the role of the person accessing the realm.
But what if you have multiple roles? More organizations are adopting shared service management, with multiple departments working in one tool.
Say you're an IT operator. You process the typical IT calls, such as computer and network issues. But you also use services within your organization. When the coffee machine only provides you with sugary water, you register a call for FM. Even though you work in the same tool, you have to log into the same application from a separate realm.
Seems odd, right?
Accommodating the roles of the user
Do you recognize having to log out of the Operator's Section and into the Self-Service Portal to fill out a form, for example? The need for both realms overlap more and more, which results in requests for features that already exist in the other realm.
So what's on the horizon? One merged realm, in the future, where the features available to you depend on the task at hand. You'll only have to log in once.
Technically, this change is directly linked to the transition to a service architecture. With the new architecture, potential features that were previously impossible will be possible, such as:
Filling out forms as an operator
Using permissions in the Self-Service Portal to control services for different customers
Making information publicly available
Having a person only registered once in TOPdesk and getting rid of multiple accounts
Realizing the changes
How your users log in to TOPdesk will change gradually, with the goal being to affect you as little as possible. Instead of a sudden change, the entire transition to one interface will take a few years. If upcoming changes impact the way you work, you'll be informed via release notes and blog posts like these beforehand.
Unfortunately, to take the first steps towards one realm, we need to make a structural change that will affect a small group of our users. Recent research shows that a small amount of users work in both the Operator's Section and Self-Serivce Portal at the same time. Soon, you'll only be able to work in one realm at a time.
If you use the Self-Service Portal and Operator's Section simultaneously, check out the Single Session knowledge item on the TOPdesk Extranet. If you have any other questions about how single sessions affect your processes, contact our support department.
These changes will lead to a simpler way of accessing TOPdesk. At the same time, more features will be possible. We expect these potential features will help support your daily work even more.