Service Level Management (SLM) is now easier to use and you have more flexibility in setting up your service levels. The changes to the module include making the integration between Contract Management and SLM and Call Management more intuitive and making it easier to adjust your service levels to the agreements with your customers.
Working with SLA's in the call card
Your operators will notice that it is easier to work with service levels within calls.The way urgency, impact and priority works has been changed to be less restrictive. TOPdesk implemented the following changes:

See which service is linked: the call card now shows you which service is linked to the call and you can easily open the linked service. This lets you see which service level applies to this call and how much time you have to process the call.

Change the impact and urgency at any moment: you no longer need to fill in the impact and urgency before linking a service. If the impact or urgency changes, you can still change it on the callcard. This automatically adjusts the corresponding priority and duration of the call. You no longer need to unlink the service to change the fields.
Filtered priority drop-down list: you now only see the available priorities in the priority dropdown list. The linked service and service level filters the drop-down list. You can only choose priorities that are available for that service level, so you don't have to worry about making a wrong choice.

Always set up a priority matrix: previously, you had to enable the impact, urgency and priority fields if you wanted to set up a separate priority matrix. If any one of these fields were disabled, you could only set a standard priority per service level. Now, you can always set up a priority matrix. When you supply enough information on the call card, TOPdesk fills in the priority and duration. If, for example, the urgencies of an impact all have the same priority, you only need to fill in the impact. TOPdesk automatically fills in the right priority and duration.

Simplify your service contracts
TOPdesk has changed the way that service levels are set up to accommodate the different ways in which they could be used. Before the update, you had two options:
Create a separate priority matrix per service level, or
Assign the durations per priority per service level
If you chose option 1, the durations for a priority were always the same for all service levels. With option 2, the standard priority matrix was always used.

Now, you don't need to choose between these two options, they are both available to you. Furthermore, you can assign a service window per priority or use the default service window. When you want your service desk to be available longer for higher priority calls, assign an extra service window that has extended hours. You don't need to create any separate services or services levels to provide your customers.

With the changes, you can now:
Still assign a default priority
Assign a priority for each impact/urgency combination on the service level card
Adjust the durationson the service level card after they are automatically filled in by TOPdesk
Assign specific service windows per priority
Have the priority determine the duration and set the duration independently. Because both options are available now, the settings "Duration is determined by Priority" and "Duration can be set independently" have been removed.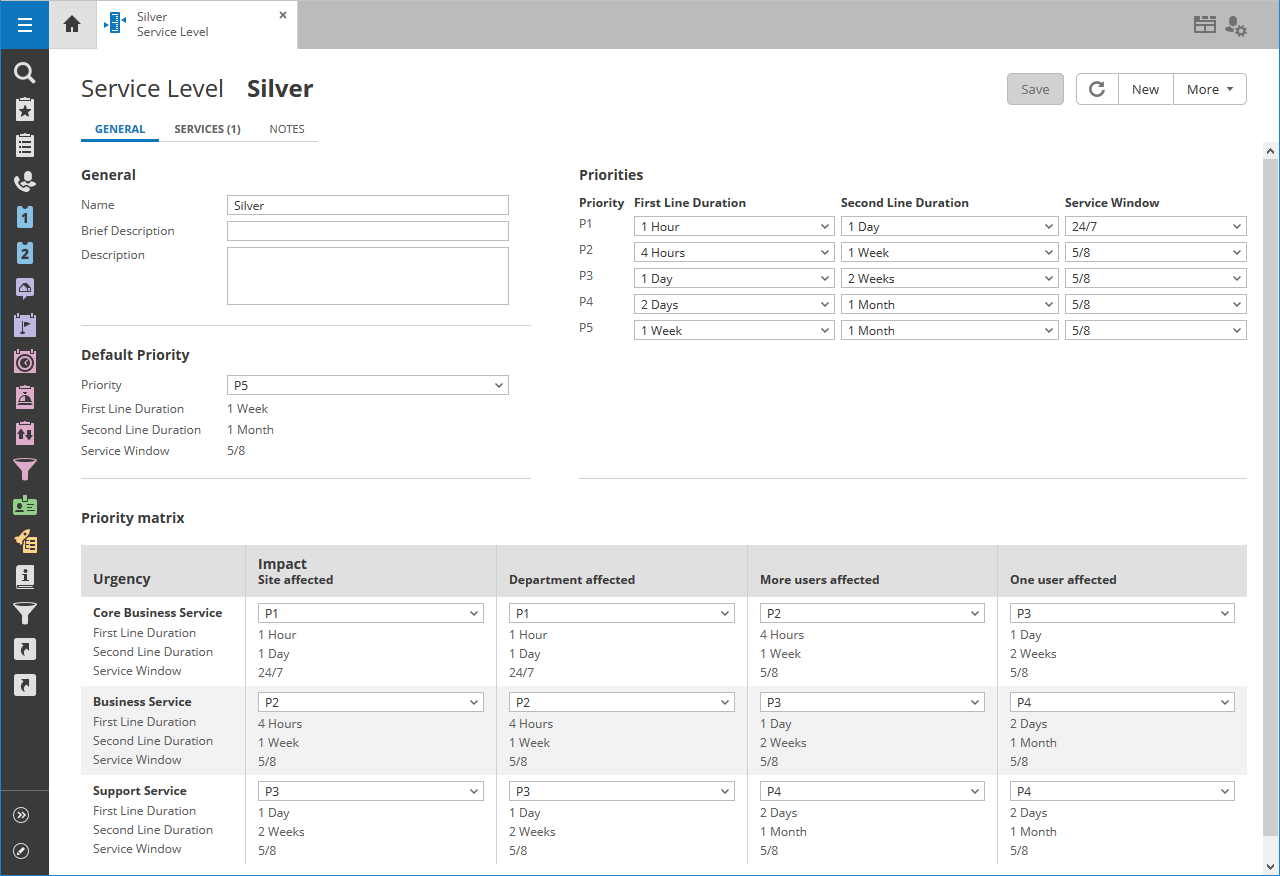 What do I need to do?
Your TOPdesk environment works the same as you are used to. You may still want to:
Check whether you have empty durations: if you use the SLA target date and target date, and you have set the target date to mandatory, you can't have empty durations. Empty durations are typically used with best effort SLA set-ups, but with an empty duration TOPdesk can't calculate the mandatory SLA target date. In this case, use a duration such as 1 year for best effort agreements.
Inform your operators of the changes: your operators can now immediately link the corresponding service to the call. After operators link a service, they can change the impact, urgency and priority fields. The priority drop-down lists filters based on the service.

Check your service level durations: if you had the "Duration can be set independently" setting enabled, you could assign different durations for the same impact/urgency combination. TOPdesk copies these durations to the new priority block on the service level card so that your current set-up still works. However, it is possible that a duration is empty or inconsistent, so checking your durations ensures that you don't have any inconsistencies. You can check your durations when it fits into your schedule, as everything still functions as before the update.
Have any questions or need help with setting up your service levels? Contact TOPdesk Consultancy or Support.
Never want to miss out on important changes? Subscribe to the product update newsletter and you will receive compact emails with new feature highlights in TOPdesk.