Reporting is key when striving for service excellence. At TOPdesk we see a lot of customers wanting to go the extra mile. We want to enable you to get more out of TOPdesk's data, so let us introduce a new feature to you.

In short: we've recently released our OData feed - an API to get data from TOPdesk in a format suitable for various business intelligence tools, such as Microsoft Power BI.

In this blog, I'll show you what you can achieve with the free version of Power BI.
Available on TOPdesk SaaS
In the past, most of our customers hosted their own TOPdesk application and database locally. Over the years we've seen a steady increase of customers moving to TOPdesk SaaS. While direct database access traditionally allowed customers to get data out of TOPdesk, for security reasons that's no longer possible on SaaS.
Of course, the need for cross-module reporting and publishable refreshing reports did not disappear with that decision. As a solution we now offer the OData feed, allowing you to gather all data into your business intelligence tool and create insightful, detailed reports. Currently the feed offers data from Incident Management and Supporting Files, with other modules to be added later.
The OData feed is exclusively available on TOPdesk SaaS at this point. Once parts of our new technical architecture are released for on-premises customers, we'll make the final decision regarding availability, but there are no plans for an on-premises release right now.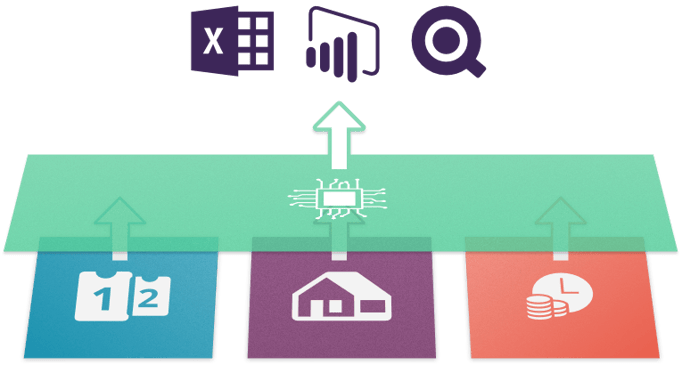 Publishing reports for your users

To publish reports for others to see, there are a few easy steps to take. First, you gather the data into your business intelligence tool. You access the Reporting API using a designated operator with Reporting API permission, and with an application password created. Then you can use any BI tool – for example the free version of Microsoft Power BI – to easily fetch your data from an OData feed. Alternatively, you could use Microsoft Excel which also supports the protocol. For a quick tutorial check out developers.topdesk.com.
Once you have your data loaded in Power BI you can create widgets to put on your dashboard for your users to see. The widgets interact with each other as you click on certain elements, allowing your users to refine the reports further by themselves.
Make sure you have a clear goal and target group for your report. Different groups of users want to see different things, or may not even be allowed to see all the data available. Create some report widgets on the dashboard and check with your users whether the reports solve their needs.
When you feel you're done, get ready to publish! Note that if you want to publish your dashboard to other users you need to pay for that, since the free version of Power BI does not allow you to. Of course the dashboard is not just a static board. You can simply trigger a manual refresh, or set up a schedule for Power BI to fetch your data, in order to create and publish daily, weekly or monthly reports.
To help get you started, we published a short tutorial on developers.topdesk.com. It will explain you how to set up the correct permissions in TOPdesk and how to access the OData feed with Microsoft Power BI.
Future developments
The initial release offers you data for Incident Management, Supporting Files and small parts of other modules. Over time we plan to add more modules, starting with Change Management and the new Asset Management.
Never want to miss out on important changes? Subscribe to the product update newsletter and you will receive compact emails with new feature highlights in TOPdesk.