In our current world, where technology and technological expectations are changing fast, it is essential to keep improving the security, reliability and performance of software. For TOPdesk, this is no different. With frequent updates, we keep our software users safe and offer our customers improved features and efficiency. We want to offer this improved software experience not only via our SaaS platform, but also for our on-premises Virtual Appliance (VA) version.
To bring a more stable, future-proof, and easily maintainable version of the VA to our customers, we will release a major VA release in the second quarter of 2023. A major release that requires some more effort from you as well, as you will need to deploy a new installation of the Virtual Appliance. In this blog, we will dive deeper into why and how we will bring the new VA experience to your organization, and what you will need to do to enjoy this improved system. After reading this blog, you will be prepared for stepping into the future.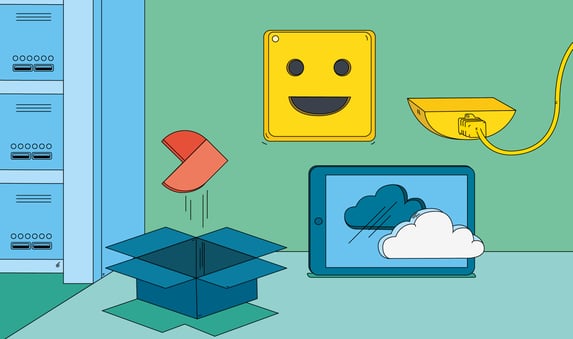 Why a major release is essential
At the beginning of 2019, the first TOPdesk Virtual Appliance was released for customer use. By now, the design of the VA is four years old and some fundamental parts are becoming outdated. While regular updates for the functionalities within your VA can be installed with our in-place update system, various fundamental parts cannot be replaced. Think of parts such as the update system itself, or the operating system of the VA.
As having an up-to-date system is essential for offering a reliable and maintainable product, we decided to provide a major release.
To update to a major release, a re-deployment of the VA is required. We expect our customers to require more time and effort to carry out re-deployments, opposed to updating with the in-place update system.
The big changes you can expect
To make sure the VA is ready for the upcoming years, we will replace some fundamental parts. With a new technical design of the VA, TOPdesk will be able to make the VA more secure, more stable, better performing, easier to install, and less challenging to maintain.
This major release is first of all necessary due to the End-of-life of CentOS. This fundamental part will soon not be updated anymore, not even for security updates. To guarantee a secure and up-to-date experience, CentOS has to be replaced. Secondly, the major release will enable us to make significant improvements to the in-place update system. Thirdly, we will use this opportunity to mitigate differences between SaaS and the VA, which will make it easier to roll out improvements for both these solutions. Let's have a closer look at these changes.
Since the introduction of the VA in 2019 and the in-place update system in 2020, our long-term vision for the VA has changed. At TOPdesk, we want to offer more convenience in the update process for our customers by improving the simplicity and reliability. The major release allows us to also rebuild the in-place update system to improve its stability.
Thirdly, we will use this major update opportunity to mitigate differences between SaaS and the VA. By reducing their differences, we can make our development process more efficient, our testing more uniform and roll-out our releases easier. Development time and effort is reduced by each mitigated difference between SaaS and the VA. This freed-up time can be used to work on other improvements for customers.
Top tips on how to prepare for the major release
Updating to the major release in the second quarter of 2023 will bring you a lot of benefits, but also requires a different process than what you might be used to. Instead of performing an in-place update, you will need to re-deploy the Virtual Appliance. To prepare you for performing these steps, we have created a list of tips and updates that will make the process as smooth as possible:
Reserve extra time for the update to the 2023 Q2 release, mainly to account for the difference in the steps you will have to take while updating.

Update to the 2023 Q2 release from the 2023 Q1 release. The first release of 2023 will include an updated 'configuration backup and restore' functionality that will make it easier to reuse your VA's configuration.

Use our re-deployment guide, available in knowledge item KI 15904 on our customer portal My TOPdesk

. We are currently working on a step-by-step guide for performing the re-deployment.

We are working on improvements to reduce the impact of the major release and to make the required re-deployment as easy as possible.
More information on the what and why of this Virtual Appliance major release is published in KI 15905 on My TOPdesk.
Ready to step into the future?
You now know why and how your Virtual Appliance will become future-proof and secure with the upcoming major release. Although installing this major release will take some more time and effort, it brings you a more stable and easier to maintain TOPdesk installation. Do this blog and the items in My TOPdesk not answer all your questions related to this release? Let us know by contacting TOPdesk Support, or contact your Customer Success Manager if you need further assistance with performing this update.