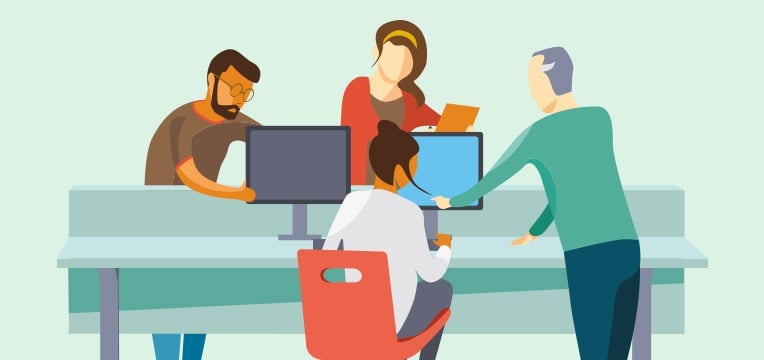 In every organization, there are power users who've immersed themselves in all features and quirks of (niche) applications. Do you currently have ways to harness this slumbering knowledge? It is what peer-to-peer support is about: making this knowledge accessible.
With the new Sharing calls feature, TOPdesk facilitates this emerging collaborative support channel.
With more and more IT-savvy millenials entering the work floor, the IT knowledge within your entire organization can only but grow. The bring-your-own-device movement, too, plays into the hands of peer-to-peer support. An organization takes a risk by allowing non-supported devices. Social support and the skills it unlocks can lower the threshold for adopting BYOD.
"When our panel of IT service management (ITSM) experts were later asked about peer-to-peer support, they unanimously said that it was here to stay and should be embraced." ITSM.tools
Overal benefits of peer-to-peer support
Integrating sources beyond your support team can:
Shorten your resolution times
Free up your support specialists to focus on proactive work as well as on tasks that require more advanced expertise
Bring support employees and users closer together
Got the hang of it? Set course for collaborative IT support in three steps.
With the Sharing calls feature, callers share requests with each other. Sharees on their part can share potential solutions by adding a reply to the call.
To use this feature:
Turn on the Sharing Calls feature in TOPdesk Labs.
Allow callers to close calls in the Self-Service Portal (setting).
Make sure your operators are notified on call updates by SSP users.