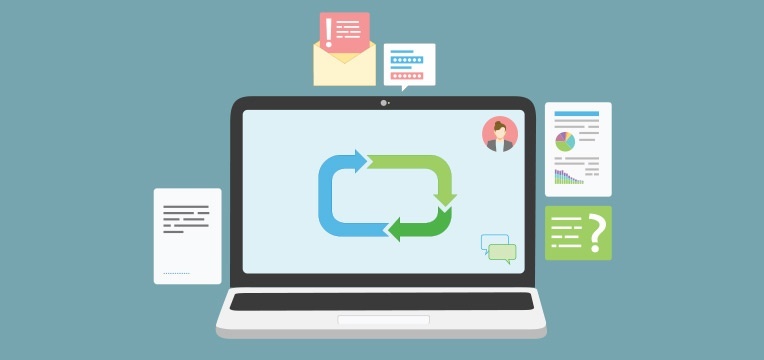 Technology changes, and TOPdesk wants to make sure it keeps up. As such, the way in which you install and update TOPdesk On-Premises is going to change as well. In short, we are phasing out the installer, and in the future you'll use a so-called Virtual Appliance to manage your TOPdesk installation. In this blog, you'll find out the reasoning behind the change, how it will affect you and when you can expect it to take place.
Why the need for a Virtual Appliance?
TOPdesk stays up to date with current technologies and developments in the market to give you the best experience modern technology can offer. A number of new TOPdesk features are released as services, which you can read about here. We believe that SaaS is the future of software and many of customers have taken the step and started using TOPdesk SaaS. The combination of services and SaaS provides improved flexibility and scalability, and it allows continuous and incremental release software. As a result, if you use SaaS, you always have the newest features available. Any problems you experience can be fixed immediately.
On the other hand, a number of customers still prefer to have an On-Premises installation of TOPdesk and we will continue to support that option. Currently, you install On-Premises via a straightforward installer, but the services-based architecture requires a more complex setup. The setup is not a problem for SaaS customers, because TOPdesk knows exactly how to configure the SaaS instance to support the services-based architecture. However, you might not have the time to invest in such knowledge for your On-Premises environment. Therefore, in order to keep the installation of TOPdesk as simple as possible, you'll be able to use TOPdesk as a Virtual Appliance instead of the current installer.
The market is developing towards extensive usage of virtual appliances or related concepts, so TOPdesk is following this direction as well. We expect that in the future, you'll be able to buy containers of pre-configured software that you deploy on your own servers, or on cloud solutions like AWS, Azure or Google Cloud. TOPdesk should fit seamlessly into this model and be as simple as possible to install. Releasing TOPdesk as a Virtual Appliance helps us accomplish both.
What is a Virtual Appliance?
A Virtual Appliance is a pre-configured virtual machine image that is run on a hypervisor such as VMWare or VirtualBox. The image you'll get will contain a Linux distribution, a recent version of TOPdesk and all released services.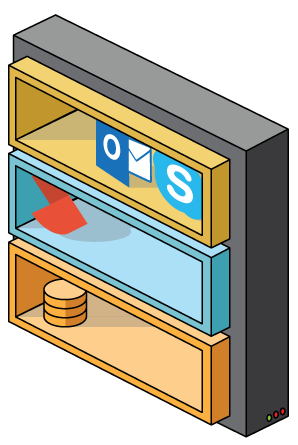 A Virtual Machine Server running a Windows Server (top), the TOPdesk Virtual Appliance (center) and a Database Server (bottom)
The only thing you need to do is configure it to your specific needs, such as providing the location of your database, active directory, license files, etc. TOPdesk will provide an interface to do just that. In other words, the virtual appliance is a box that Just Works™. You won't be required to learn Linux in order to modify your configuration, as important customizable configuration files will be stored outside the appliance.
Advantages of using the Virtual Appliance
Most importantly, the Virtual Appliance enables you to use some of the newest features built on the services architecture, just like SaaS. Using the virtual appliance means that you don't need to know any of the technical details required for installing services or related dependencies. TOPdesk will take care of that. Finally, we believe that the market is heading towards using virtual appliances extensively. Market changes will be easier for you to adopt when you have a market-compliant solution with TOPdesk.
Disadvantages of using the Virtual Appliance
You might have some reservations about Virtual Appliances. You'll have to deploy a TOPdesk rather than install it on your existing server and the service-oriented architecture comes with an increase in resource requirements. And how do you deal with something that goes wrong inside the Virtual Appliance?
First of all, you'll be provided with extensive and clear installation documentation. By hosting the configuration files outside of the appliance, most configuration problems can be solved without having to touch the Virtual Appliance. Next to that, via a web interface, you'll be able to monitor the appliance and perform more involved configuration. As for the resource requirements: these are currently being optimized. We'll keep an eye on whether the services are not using more than they need.
When can I expect the Virtual Appliance?
A smooth transition is important. The first Virtual Appliance will be released together with the usual installer in summer 2018. You can try the Virtual Appliance to see how it works, and use the installer as a backup. This way you gain experience with this new method. If you have any feedback, we can use that to improve the appliance even further.
For the time being, decide whether you want to install TOPdesk using the installer as you do know, or using the Virtual Appliance. If you do choose to try out the Virtual Appliance, please be aware that you won't have access to the features built on the services architecture just yet. At some point, we'll start migrating existing functionality. By that time, you can expect an end-of-life announcement for the current method of installing TOPdesk, as it will no longer contain the migrated features. This announcement will happen sometime next year.
What can I do now?
Do you have any questions after reading this blog? Let us know! With this survey, you can voice any concerns, questions or remarks you have. In future communications, we'll address your concerns regarding this move.
Want to find out more about the benefits of SaaS? Be sure to read our earlier blog posts!