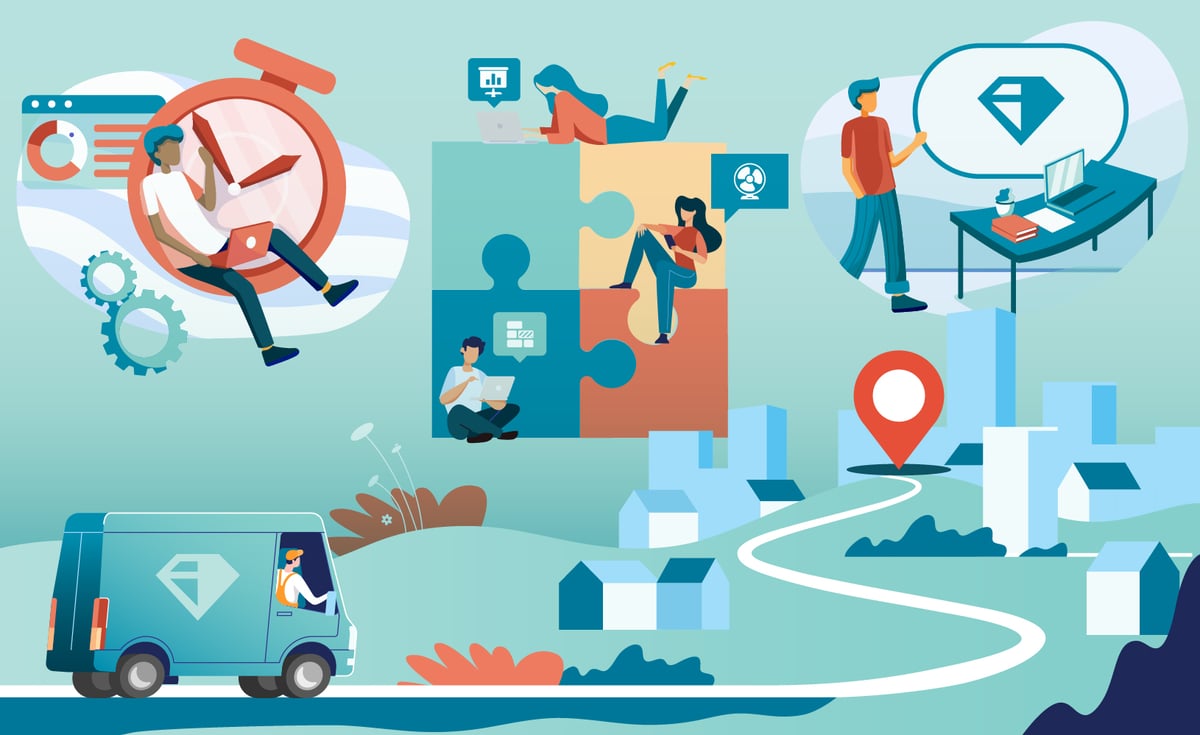 Managing your organization's IT assets can be a puzzle of its own, and picking a management tool that fits your needs is often a dilemma. As with everything else, there are pros and cons to any technology you go for. One essential question to ask yourself would be: is my tool up-to-date? You want your organization to be up to speed with the best modules available, and if the answer to your question is no, we're giving you a hint: consider migrating to Asset Management.
Perhaps you're already familiar with Asset Management, but haven't fully migrated yet? Or maybe it's the first time you see this module as a fit for your company? Regardless of your specific situation, the latest improvements we've made to TOPdesk Asset Management offer a bunch of benefits to migrating; from flexibility and efficiency, to better integration and automation. We're breaking it all down below.
1. A flexible system fit to your needs
Nobody wants to be bombarded with tons of information when looking for a specific solution or piece of knowledge. That's why, focus and flexibility come first in TOPdesk Asset Management. Thanks to customizable templates, you can design unlimited amounts of asset cards to fit your needs and offer you exactly the information you require. What's more, fixed fields—typical for Configuration Management—no longer obstruct you from seeing only those functionalities that best suit your processes. You can create fields relevant to your specific assets, which makes empty fields and redundant information things of the past.
2. APIs that allow for better integration and automation
On the topic of flexibility, TOPdesk Asset Management's REST API ensures successful integration with a variety of other applications, such as Nagios, LANDesk, SCOM, Intune, Microsoft Endpoint Manager and Lansweeper. If communication between tools is interrupted, so is your easy access to necessary information about, and between, your assets. Asset Management's integration APIs boost the speed of information flows within your organization, while also ensuring automation of your assets. In turn, you save money and time, but increase efficiency and accuracy. Keeping your CMDB up-to-date has never been so easy.
3. Cleaner and easier-to-use UX
Because Asset Management shows you only the fields and information you need, while also allowing you to design your own templates that fit your specific needs, the overall experience of working within the upgraded tool is cleaner and much more user friendly. Unlike the interface of modules such as Configuration Management, Asset Management's design leaves clutter and rigidity behind, making space for clear and enjoyable tool navigation.
4. The Migration Wizards makes the change (magically) easier.
So far, so good. But what about actually starting out with TOPdesk Asset Management? We realize that adopting new technology for your entire company can pose a challenge, and it will definitely require effort and time. But we're here to help you optimize the process as best as you can, so that your company migrates as smoothly as possible. Here's where the Migration Wizard comes in—your in-tool migration menu that will aid you through the process. It offers you an overview of all object types you already have and helps you move data from the old module to the new one, among other functionalities.
To migrate, or not to migrate?
Though migrating to the upgraded TOPdesk Asset Management module offers you endless possibilities for process improvements and more efficient work, it can be the case that there are still some blockers impeding your migration. Certain features, such as Stock Management or Configuration links, are currently being developed and will be available in the coming months. If you're an active user of those, we advise you to wait a bit before making the switch. However, a few features—like TOPsis—will not be part of TOPdesk Asset Management. This will in no way obstruct your organization from making the best out of the tool. A thing to keep in mind: migration is possible both in full and in parts. So, you get to choose the process that fits you best.
Your next steps to Asset Management
The benefits listed above sound appealing to you and you're considering migration as a possibility? Then we recommend you take the Migration Quiz to find out whether your organization is ready to migrate now, or perhaps a bit later in time.
As mentioned already, we're here to help you make the change as easy as possible, and that's why we've also prepared a special webinar, Best Practices for Migrating to Asset Management. Watch now and expect to refresh your basic Asset Management knowledge while getting to know all new features in depth and learning the tips for a successful migration. Not convinced? Watch this trailer


Do you have any questions regarding Asset Management? Don't hesitate to reach out to us at productupdates@topdesk.com.