Have you ever been faced with the challenge to make sure your organization has an up-to-date CMDB? It's not always easy, that's for sure. And do you even need to record all information in your CMDB?
Traditionally we see companies trying to mirror a vendor's website for example, to have everything at hand. With TOPdesk's web content widget you load up any information from the internet into your asset card. Check out a few examples below for showing vendor information, visualizing your asset on Google Maps or having real-time insights into the monitoring of your server.
Directly load supplier information
You no longer have to store every tiny detail about your laptops. Instead, use the web widget to embed the website of your supplier. In this example we've embedded the warranty information of a specific Dell laptop, based on the information filled in on the asset card.
To set this up, simply open design mode and fill in the URL you want to show. Insert some variables from the asset card and you see exactly what you want.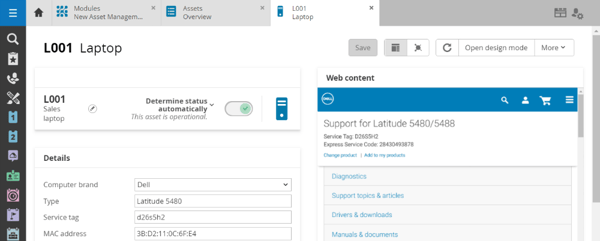 Display your asset's location with Google Maps
"Where did you park the car again?" is just one of the many examples for why you would want to plot your asset on a map. With the web content widget, you see exactly where an asset is located.
In the example below, we've added the field "Parking address" to the car template. Fill in the URL for Google Maps (with your API key) and select the field as the URL part. You'll see the location of your asset in Google Maps and the address will be filled in directly in the "Parking address" field.
Note that the Google Maps API allows you to make a number of free calls, before you start pay-per-use.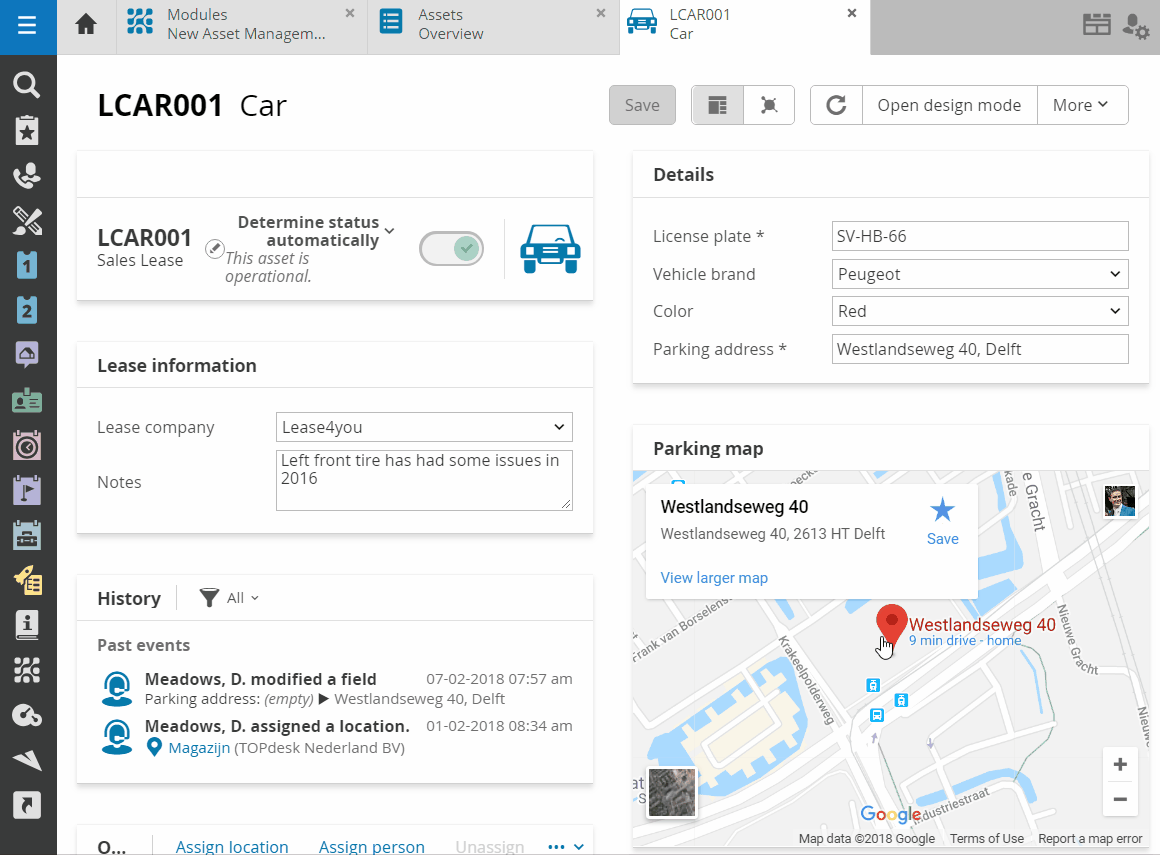 Live monitoring information directly available
Perhaps the best example of having external information directly available at hand is showing monitoring information, for example from Landesk or Nagios.
If you use TOPdesk SaaS, TOPdesk constantly monitors your environment. If something's off, incidents are triggered by Nagios and someone will get on it. When opening the SaaS environment asset, monitoring information is directly shown, saving precious clicks and time to resolve the cause.

What's next for Asset Management?
Like with all aspects of the new Asset Management, flexibility is key. With the addition of the web content widget, you have another tool to visualize asset information and it is directly available for every operator.
Of course there is more in store for you. Check out TOPdesk's product roadmap or simply sign up for the product update newsletter to stay up-to-date!