Knowledge plays a very important role in the TOPdesk product. By allowing operators to easily create, integrate, and collate your organization's knowledge, they're able to vastly improve the overall levels of service. Needless to say, this greatly benefits your customers - they're able to find solutions faster and without needing to wait for an operator's response.
Let's explore how you can make the most out of the TOPdesk Knowledge Base API.
Possibilities of the Knowledge Base API
Our Knowledge Base API gives you the power to develop your organization's own solutions for Knowledge Management. The programming interface allows you to create your own integrations to access and manage your TOPdesk Knowledge Base.
Some use cases include:
Exporting the TOPdesk Knowledge Base into another system
Importing knowledge from various external systems and making it available in one central place for both your customers and your employees
Creating and updating individual Knowledge Items with their translations, linked branches, Operators, and hierarchies
Listing and filtering your knowledge items based on queries
If you want to find out more about our Knowledge base API then check out http://developers.topdesk.com.

Try it out for yourself in Labs
Since we want to involve you, our customer, as early as possible, we are releasing a preliminary version of the Knowledge Base API in TOPdesk Labs.
Feel free to play around with it and try your hand using this API with various different applications. However, keep in mind that this is a work in progress - we'll still be making some further changes before it's officially released.
It's worth pointing out that there are a few limitations with this Labs release. The use of images is limited to prevent negative performance impact on the TOPdesk environments. As such, the API currently only supports images that don't exceed 450x600px.
Moreover, excessive use of the API might potentially affect other areas of your TOPdesk environment. However, this shouldn't be a problem provided you don't overuse the API.
Did we pique your curiosity?
To see what's currently possible with the Knowledge Base API, and what's still on the roadmap, have a look at this detailed overview.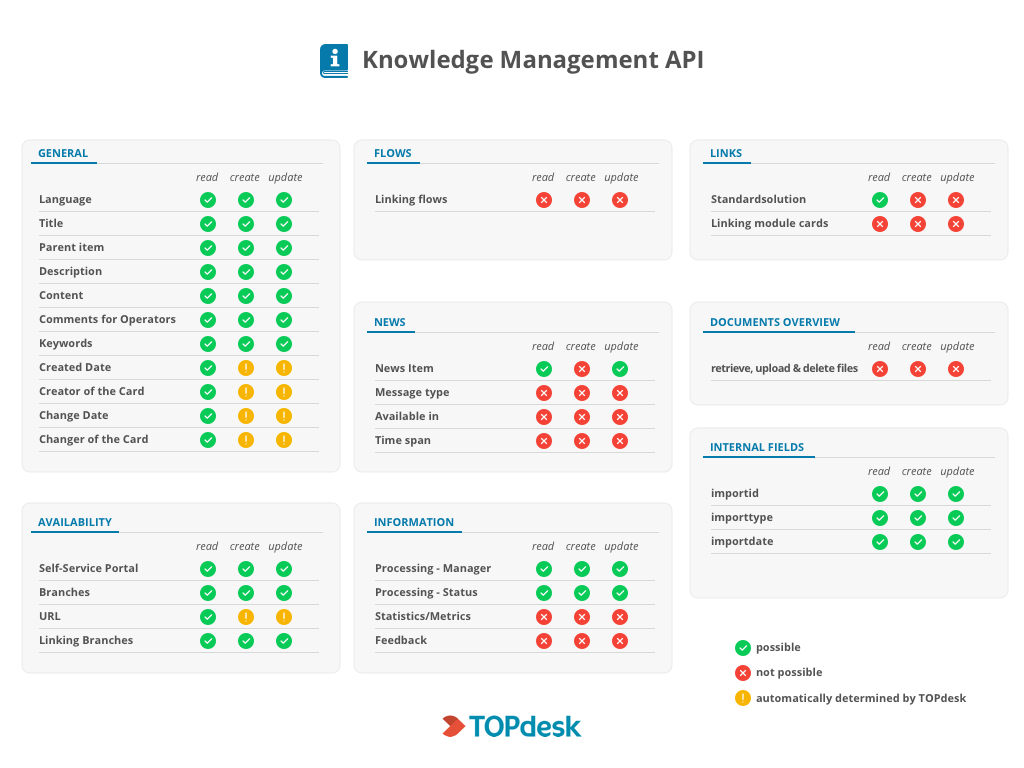 Want to try it out? Great - this is how to enable this feature within your TOPdesk environment:
As an Application Manager, go to the Operator's section of your TOPdesk

Open Settings > Functional Settings > Labs to find the Entry for Knowledge Base API. Once you've found it, move the slider to "enabled"
If you've already tried using the API, we would absolutely love to hear your feedback!