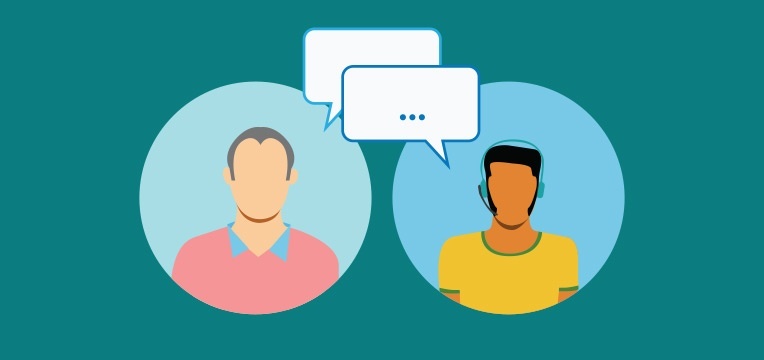 Humans share an urgency to interact with one another. We all like to talk, touch, text, wink, and receive some kind of reply. The way we like to interact, however, differs from person to person. At work, for instance, some people prefer receiving automated feedback, while others would rather get an answer face-to-face. The way a message is conveyed has a big impact on how the receiver interprets and values it.
At TOPdesk we believe that people using professional services also have different communication preferences. Some like to text or use the Self-Service Portal, while others rather use a live chat. To provide an optimal service experience, your customers should be able to choose a communication method that best suits them and the situation they are in.
Just imagine the Christmas presents you ordered, arrive on the 27th of December. You probably want to contact the online shop where you bought the presents to vent your dissatisfaction. Would you be fine with simply sending an email and getting a reply via e-mail as well? Or would you need to talk to someone in person to feel like you're receiving proper service as their customer?
If we want to pursue service excellence, we'll have to find a way to offer our customers different ways of communicating with us – whether they have something to complain about, or just want to ask a question.
Implementing a chat functionality might be a good addition to your current solutions. Over the last decade, we have seen that chat is becoming increasingly significant. Not only do we use chat to communicate with family and friends, but also with companies and other external organizations that deliver services.
When looking at the advantages, this doesn't come as much of a surprise. Chat is an easy way to share data such as manuals, visuals or codes. Moreover, it's fast, clear and easy to get started. Chat takes away the disadvantage of having to choose the department you want to talk to by phone, nor does it require to wait in a virtual que listening to annoying elevator music. Chat allows you to give a quick human reply when someone is stuck.
It might be interesting to look into what chat might add to your organization. Could it be something that adds to your customers' service experience?
Looking to implement a chat functionality at your organization? Check out TOPdesk live chat which we'll introduce in January of 2019.