Will the Collaboration Platform support other modules than incident management? Can Share and Subscribe also be made available for changes? Can API functionality available for calls also be made available for other modules? More broadly: when will we enable cross-module overviews and BI reporting? These are some of the many questions I and my colleagues in the Product Management team receive on a daily basis.
The striking thing is how similar the underlying question is: why is feature A not available in TOPdesk module B? I'd like to take the opportunity to answer those questions. And relate them to what we're doing to redevelop the foundations of TOPdesk.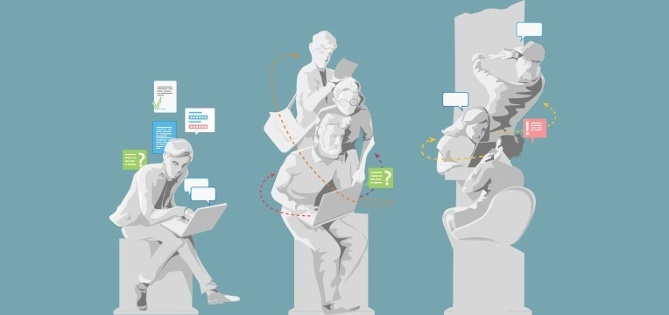 Looks similar, but it's not the same
There are a lot of capabilities that I'm sure you'll recognize, that were, or still are, available in only some modules of TOPdesk:
Supplier fields
Rich text in progress trails
'Assign to me' for operators
Status determines processing status
Customer feedback
A mobile solution
And there's plenty of other possible examples. As a result, some useful capabilities are not available everywhere, and agents experience inconsistencies in how different modules work.
How can this be the case? Essentially, although all modules of TOPdesk look similar and generally work in a consistent way, they are in fact separate from each other on a technical level. This means that any feature developed once requires significant further investment, or even needs to be developed from the ground up, to be available in other parts of TOPdesk. For example, introducing Rich Text to Change Management took us months, despite this capability already being available in Call Management.
How hard can it be to make these features generally available, you might ask? Quite hard, believe me. Unfortunately, this slows down the release of new capabilities to our customers and leads to inconsistencies in the user experience. It also increases costs of long-term maintenance, because instead of making a change in a single place this needs to be done in multiple places in order to maintain consistency. And finally, it means that a solution that is helpful and valuable to our customers in one place sometimes simply isn't always available in other places.
The solution: Tasks and Workflows
We recognize this pattern and have realized that this is not the way forward. That is one of the reasons why we are investing in simplifying and reducing the different TOPdesk concepts that currently represent the different process modules. With Tasks and Workflows as two of the core components as a proper long-term solution to solve many of those requests mentioned earlier.
The core of the concept is simple. Tasks are what agents work with on a day-to-day basis and are developed from the ground up to be API-driven and flexible in the types of workload they are suitable for. Workflows are based on BPMN – a market standard for process design – and link Tasks together in meaningful ways in order to facilitate a wide range of processes.
This means that in the long run, processes as they are currently (hard-coded) represented in TOPdesk in the form of modules become a matter of configuring a generic Task and Workflows system instead, with out-of-the-box configured processes on offer for ease of use. Our customers benefit from the choice between easily implemented standard processes, or tailored processes to fit your needs.
This also means we only need to integrate Tasks and Workflows into new products or enhance them with new technologies (such as AI) a single time, instead of separately for each module as is currently the case. This improves consistency across our product line and increases the speed of rolling out new features, which helps your agents in their work with TOPdesk.
Case in point: the Kanban Board
Working on tasks and workflows is a long-term investment in our technical and functional foundations which we are actively balancing with expanding our existing product. As an example of this: I recently announced that we are planning to introduce parts of our change management module to the Kanban Board in addition to the currently supported call management functionality. The response was overwhelmingly positive, with a caveat: it also immediately raised the question when we would also offer support for operational activities, problems, and how far we would go with support for change management.
In the case of adding the basics of change management to the Kanban Board, the short-term benefits for our customers are clearly apparent based on the level of input we received on this subject. But in the long-term, I'd prefer to invest in the development of Tasks & Workflows, to provide a viable alternative to existing modules, as opposed to introducing existing modules one by one.
Of course, we will continue to evaluate whether this is the best approach on a case-by-case basis, and what the best decision can be for other modules or further improve on change management functionality. After implementing change management in the Kanban Board, it will be a good moment to take stock of the progress on Tasks and Workflows and decide how best to proceed within the Kanban Board context.
Get involved!
Do you want to know more about Tasks, Workflows and how we're developing the future of TOPdesk? You can find ongoing and scheduled projects on our Roadmap by filtering on Workflows. And in fact, the first release can already be found in Labs: enable the Checklists feature to experiment with the first implementation of Tasks and Workflows. We're taking this as a starting point, and when expanding it over time we would love to hear your thoughts – we don't just believe in Agile as something for our customers but take it to heart when developing our own software.