The majority of organizations are no longer fully self-sufficient when providing a service to their customers. Most of the time, they also need the help of other experts and organizations in their field like 24/7 IT support, Identity & Access management or managed hosting for applications . But this isn't always a seamless process
What happens when you can't efficiently work together with these parties? Well, this will be reflected in your service delivery — so TOPdesk recognizes the need for smooth collaboration between you and all your partners.
That's why we built the TOPdesk Collaboration Platform.
Collaboration made easy
One of the most effective ways of improving your collaboration with partners and suppliers is by integrating each other's service management tooling. This enables seamless communication between your service management environments and helps to ensure that agreements are always transparent. Here at TOPdesk, we firmly believe that having a good relationship with your partners and suppliers leads to a higher quality service delivery across the line. And who does that benefit the most? Your customers!
It should be as easy to collaborate with external parties as it is to collaborate with your colleagues. TOPdesk already enables customers to collaborate with their trusted third parties by using integrations such as action sequences. However, these integrations are often difficult to set up without any technical knowledge or without a consultant. This results in long waiting times and high costs. TOPdesk believe that this process can — and should — be simplified. That's why our new Collaboration Platform enables you to set up a connection with your trusted partners and suppliers in just a few clicks. Afterwards, you can immediately start sharing calls.
Setting up a connection with a third party
Right, let's take you through the step-by-step process to setting up your very own connections. You can find Collaboration Platform under Functional Settings. In these settings, you start by giving your organization a name so that your collaboration partners can identify you. You can also set up a default operator to handle all incoming tickets created by the Collaboration Platform, and a default status when you receive an update in one of your shared tickets.
To connect with other organizations, simply click the Invite button and enter in your partner's URL, as well as the name of the organization that you're connecting with.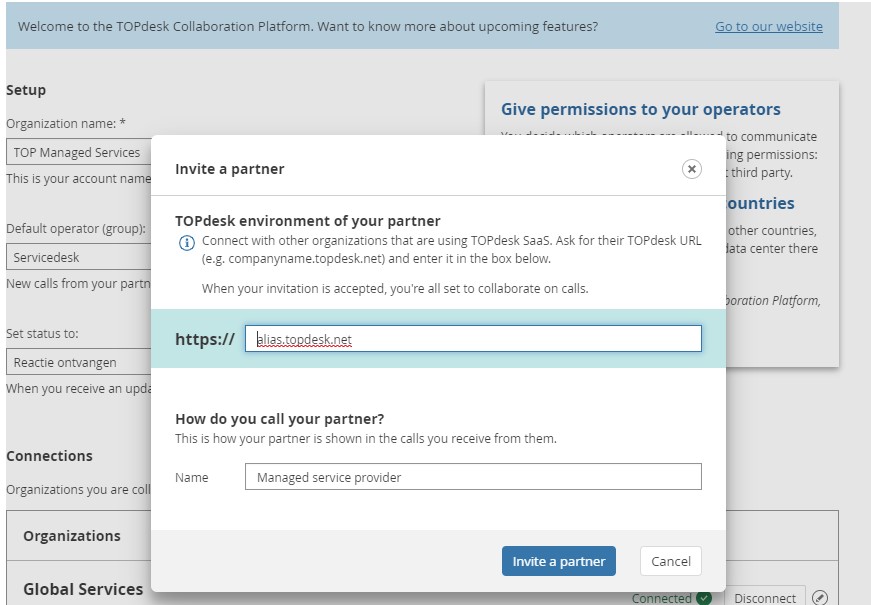 Sharing a ticket
Once they have accepted your invitation and you're connected to your partner or supplier, you need to then give certain permissions to specific operators before they can share calls and view all shared calls. Decide which operators are allowed to communicate with your partners by giving them the following permissions: Call Management > Create/update call at third party.
Done. Now you're all set to start collaborating!
Sharing information throughout the Collaboration Platform is an incredibly simple process. Open up the ticket in question and type a message that you want to share with your partner or supplier. In the progress trail, mark the "Create new call at third party" checkbox, and in the dropdown menu, select the organization that you want to send the message to. As the initiator, if you want to share another message, you will need to use the checkbox "Update call at third party".
The partner or supplier on the receiving side will then receive a ticket based on the content of the shared message. If you want to maintain an ongoing dialogue with your customer, every reply you type in the progress trail will automatically be shared. If, however, there are messages that do not concern your customer, use the "invisible for caller" checkbox.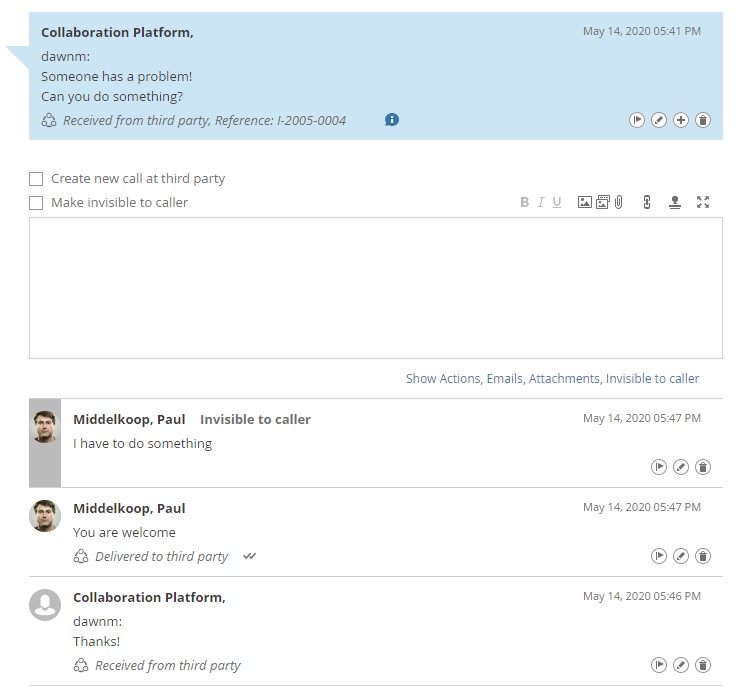 Now available for all
The Collaboration Platform was initially only available for our NL3 data center, but I'm happy to share that it's now available for all our data centers. Plus, it's worth noting that you're also able to make connections with TOPdesk environments that are hosted on other data centers.
Our on-premise customers will be able to access the Collaboration Platform after our virtual appliance release in Q3 of this year. Of course, you'll then also be able to connect with SaaS environments.
If you want to know more about what's coming up next, check out the roadmap for the Collaboration Platform.
Share your thoughts
Want to help TOPdesk improve the Collaboration Platform? Please reach out to us and share your suggestions. We'd love to hear what you think!