As a TOPdesk customer, you regularly see new features we've added to our software. But how to make the best use of those features? Which problems could they help you solve?
To help you on your way, we'll regularly highlight a recently released feature and show you how it's used in practice. This time: how the Sharing calls feature saves London School of Hygiene & Tropical Medicine 40 hours a month handling expense requests.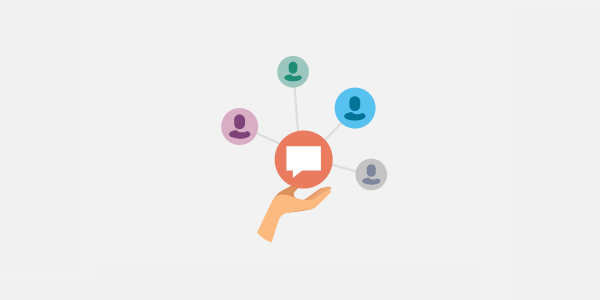 About London School of Hygiene & Tropical Medicine
The London School of Hygiene & Tropical Medicine is a world-leading centre for research and postgraduate education in public and global health. Their IT department has been using TOPdesk since 2017, but over the years the use of TOPdesk has spread to other departments. So far IT, Facilities, Payroll, Catering, Registry, Laboratory Services, Communications teams and the Library are on board. This is not an accident, says Caroline Fernyhough, Service desk manager: 'We absolutely adore TOPdesk, so we have been championing it within our organization.'
Why did you start using Sharing calls?
'Two reasons, really.
Firstly, it's a feature our customers requested. We're promoting the use of the self-service portal instead of email, but some colleagues want to cc a colleague when communicating about incidents. When reporting a malfunction for a printer that's used by the entire department, for instance. Some colleagues didn't use our self-service portal because they couldn't cc their colleagues.
Second, we used the Sharing calls feature to circumvent an issue our Payroll team had with our finance system. Payroll wanted to improve how they handle staff expenses, since this was a pretty laborious process.
If a member of staff (i.e. their customer) wanted to claim expenses, this is what happened: the customer filled in a form in the self-service portal, and uploaded spreadsheets of expenses and receipts. The call landed with the payroll team, who would contact their approver by email and attach the expenses and receipts, asking for approval. When they received a response, the Payroll team would update the information in the call, approve the request.'
What has improved since using Sharing calls?
'We have removed almost all intervention of the Payroll team.
We now let our customer share their request with their approver, who automatically receives an email. The approver can directly access the call in TOPdesk, view the relevant attachments, and approve or decline the request. The only things Payroll needs to do, is check the progress of all requests. If a request has got no response within 3 days, Payroll sends a reminder to the approver.'
Have you found any measurable impact?
'Everybody's very happy with the Sharing calls feature.
Using Sharing calls feature saves the Payroll team a lot of time. They handle about 500 expense requests a month, and, all in all, each request used to take Payroll over 5 minutes to handle. So this saves us over 40 hours a month.
Also, the rating of how we handle expenses requests has increased. It used to be a bit over 4, now they get a 4.6/5 rating. Simplifying this process actually increased customer satisfaction, since it sped up the request handling.
For the approver it's more convenient, too. They can always access the attachments, and they don't have the issue any more that they have to contact Payroll when they forgot to attach the relevant documents.'
How did you increase adoption of this feature?
'Well, it doesn't require much work for our customer. That helps. They just need to fill in one additional field in their expense form. And we added a remark in the form: 'Sharing with your approver helps us process your request quicker'.
In addition, we put out a news article introducing the Sharing calls feature, explaining in more detail why we added that and how they would benefit from it.'
Any future plans?
'Officially, this is still a workaround until we have a tailor-made solution in our finance tool. But for the next few years, this works well.
We're looking into expanding the use of the Sharing calls feature for other processes. A few months ago, IT Support also started to use this feature for handling requests to access shared folders. And we might use the same construct for other things, such as requests to purchase a computer.'
Want to try the Sharing calls feature?
This feature is currently available in TOPdesk Labs. You activate it in your TOPdesk by going to Settings > Functional Settings > Labs > enable 'Turn on feature for all operators'. For more information about Sharing calls, check out our blog.