Do you work with Service Level Management? Then we're about to make your life easier. In fact, as you read in the previous blog about SLM, TOPdesk Development has already improved the SLM module. How? By making it easier to create service levels in TOPdesk so they match the agreements you made with your customer.
Now it's time for the next step towards better SLM.
Do you recognize this situation? Your end users log calls via the Self-Service Portal, but they can't link a service. Currently, only operators can link services to calls. When your organization has a lot of open calls, it happens quite often that operators are too late when they want to link a service to the call. We've improved this situation for you.
Automatically linking SLA services to your calls
So, what have we changed?
Services are linked automatically when your end user creates a call via the Self-Service Portal. In the old situation, operators had to manually link services to a call, even when only one service was available for this specific caller.
Calls are prioritized automatically, making it instantly clear for operators which calls they have to pick up first.
Automatic linking and prioritization of calls leads to a shorter response time, increased productivity at your support desk, and reduces the chance of breaching your SLAs. In the end, keeping your promises and solving calls on time will lead to happier customers.
What do I need to do to make this work?
We believe that this new feature will both ease the work of your operators and make your callers happier. However, to maximize the benefits of this feature, you need to check your Contracts, Services and Service Levels.
TOPdesk can only automatically link an SLA service to a call when there's one possible match. Logically, TOPdesk can't choose which service applies to the caller if two or more services are applicable. You can filter services by using the caller's contract and call's criteria, such as Call Type, Category and linked object. After the correct service is linked, TOPdesk determines the priority and duration from service level's priority matrix. The result? Your call is assigned the correct target date and your To Do list is neatly prioritized. See below for a graphical explanation of how the auto link feature from the SSP works: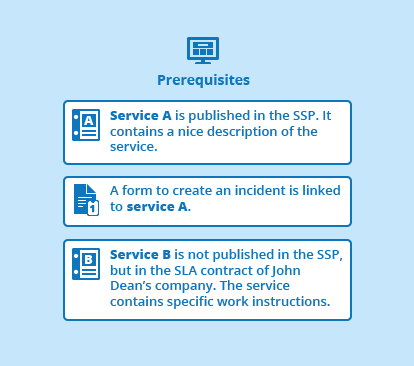 I want to try this now
We are looking for SaaS customers who want to try out our new 'Autolink SLA services from SSP' feature. We think it's ready, and it has been tested thoroughly. But before giving this to everybody we would like to test it with some customers. Would you like to join our test panel? Please comment on this blog!
What's the next step for SLM?
Wouldn't it be great if not only calls logged via the SSP were prioritized automatically, but also calls logged by operators? This is exactly what we're going to work on. This feature will further reduce the number of clicks, and your operator will no longer forget to link a service.
Do you have ideas to improve SLM even further?
Please visit TOPdesk Innovation Platform (https://tip.topdesk.com) to share your ideas!
Never want to miss out on important changes? Subscribe to the product update newsletter and you will receive compact emails with new feature highlights in TOPdesk.