At TOPdesk, we take our customers' needs seriously. And we didn't stop there.
After a year of effort and listening to our customers, we've successfully launched the TOPdesk Innovation Platform: a place where TOPdesk users can provide product feedback and suggestions. They can follow interesting ideas, join discussions and prioritize the features they need. It helps us to raise the transparency of our development processes and continually improve our services.
So, what do we do with all those great ideas? Here is a sneak peek behind the scenes.
The process behind TIP
A received product feedback roughly go through five phases:
Review
Report
Plan
Build
Release
1. Reviewing
Before we had the TOPdesk Innovation Platform, we used to read through thousands of feature requests or product feedback each year. We still read through them, but now other customers can also follow those amazing ideas and see their status. Sharing your idea on TIP starts with the 'Not reviewed' status and is immediately useful because other customers can vote and comment on your suggestion, benefit from the workaround and complete the story with their use cases.
---
TOPtip #1
Search for existing ideas first and add your story there. This way you have a better chance that your feedback is seen and voted on!
---
Next is the reviewing step. Our specialists will check if your story is understandable and complete. They will also review other factors like the language, use cases and workarounds. Similar user stories and their votes will be merged. When everything is clear and ok, the specialist will add tags to the idea and set the status to 'Awaiting feedback'. Now the idea is ready to compete with other great ideas.
In this 'Awaiting feedback' phase, the idea can evolve with the priority and needs of other users. It can indicate trends and help us truly understand your story. The goal is to get your idea backed by other customers, making it popular and valuable.
---
TOPtip #2
If you think an idea is very similar to another one, you can add a comment and refer to the similar idea using the case number found in the browser's url.
For example add "#27201" for case https://tip.topdesk.com/app/#/case/27201.
---
2. Reporting
In this step, specialists and product managers will periodically browse through the existing ideas of their responsible domains and run reports on them. They add tags to keep track of interesting developments in the market. The ideas at the top of the list will eventually end up at the meeting table. It doesn't mean they will be selected for implementation right away, but we can discuss whether something is currently infeasible or out of scope; or if we found something interesting, we can post a comment to verify assumptions and clarify needs. An idea will be planned if it is really valuable. Below is a screenshot of a report.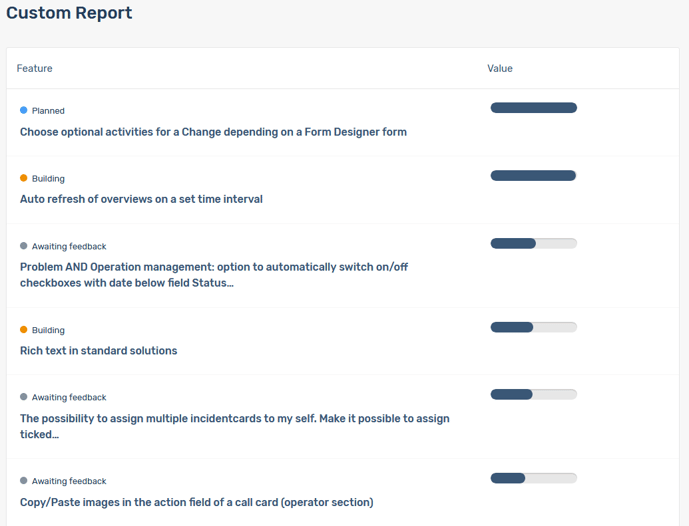 3. Planning
So your idea made it to the planning phase. Hurray! You'll get a notification of any status changes via email and usually, you can see your idea ends up on our roadmap too. Whenever something is planned, we'll create a Jira issue and a lot of things will be discussed in private. We'll also link the story to other relevant cases, issues and knowledge items and put it on our backlog. The screenshot below gives you an idea of what we discuss in private. You can rest assured that the idea got our attention when we gave it the 'Planned' status, but it might take a while before we actually start building it.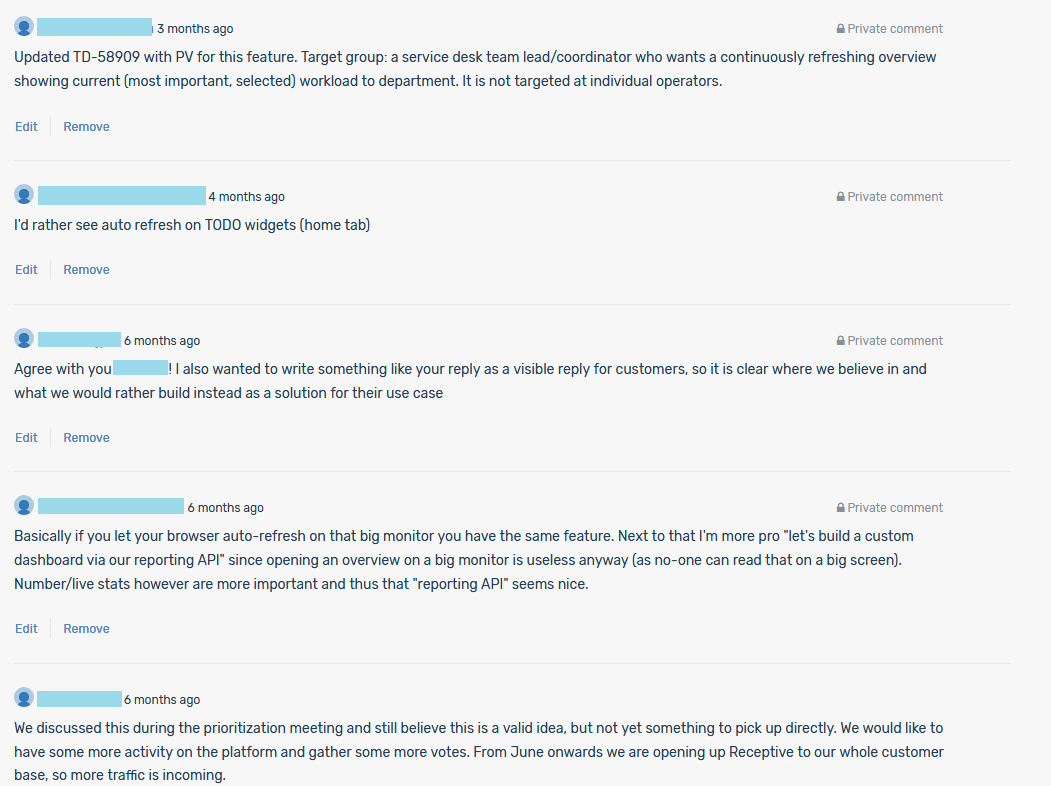 4. Building
When a TIP case is given the 'Building' status, this means the case is added to one of our projects and we've started to work on a solution that is related to this TIP case. It might take some time before it's released, but the development has started. Subscribe to the idea to receive updates and notifications about the feature. The actual implementation of the solution might differ from the original idea, because the initial idea has gone through excessive research and in-depth discussions, but we believe that the solution will benefit most of our customers and enable you to reach the same goal.
5. Release
And there it is, the release! This means we've finished the implementation and you can expect to see the change in a next TOPdesk version. SaaS customers are usually able to access the new functionalities first, but on-premises will follow soon in a next on-premises release as well. Check out the release notes for more information.
In some cases, the new feature will be released as a TOPdesk Labs feature first, because we want to get some early feedback before we fine tune the feature and continue with incremental improvements. In any case, feedback is still welcome as we're curious about what you think of the product! Tell us in the comment section whether you're happy with the new feature or when your case is not entirely covered. This way, we can improve TOPdesk together.
Why use TIP?
The TOPdesk Innovation Platform lets us show our customers what we're doing and opens a channel between our customers and our product managers. We're listening and we're also eager to tell you what awesome things we've planned in the next release. This platform enables us to notify you and gather valuable insights. So please share your stories with us on TIP!
---
TOPtip #3
Check out knowledge item KI 9609 for frequently asked questions.
For more details about what the statuses and responses mean,
search our Extranet Knowledge Base on "TIP: responses".
---
Let's work together to make TOPdesk even better!
Never want to miss out on important changes? Subscribe to the product update newsletter and you will receive compact emails with new feature highlights in TOPdesk.