The TOPdesk Asset Management module makes organization-wide asset management easier and more intuitive than ever before. But despite adding a range of new features, there has still been one major hurdle holding customers back from migrating: reporting.
That's why we created the Asset Type Report.
Reporting isn't the sexiest task out there—far from it. However, it's one of the most essential, and is the basis for all effective decision-making.
This post will explain the relationship between service excellence and reporting, outline how you can begin using the Asset Type Report, and explore the link between asset reporting and our improved OData feed.
Report Your Way To Service Excellence
Reporting is the catalyst powering service excellence.
Want to find out which assets have malfunctions and require maintenance? Run a report.
Want to create a budget plan for the next quarter, outlining how much you need to invest and in which assets? Run a report.
Want to invoice customers based on incidents per asset or on maintenance? Run a report.
Service excellence is more than just ad hoc troubleshooting. The best organizations proactively identify areas that need attention, using data to pinpoint where they need to focus their efforts.
In other words, they prioritize regular reporting.
Reporting allows them to provide a seamless customer experience, ensure that departing employees hand back all company property, and more generally, plan appropriately for the future. Let's dig into how the Asset Type report and OData enables you to achieve service excellence.
The Asset Type Report
Simply put, the report consists of two parts: the first showing a list of all assets created within a given year, and the second containing more advanced calculations (such as the total cost of the assets listed).
The report can be accessed in two ways. Either via the main menu > New > Report > Asset Type Report, or via a link to the report on the module page of the new Asset management. (If you do not yet have the necessary authorizations to create an Asset Type report - check out the Knowledge Item Asset Type Report: Permissions & filters on how to configure this.)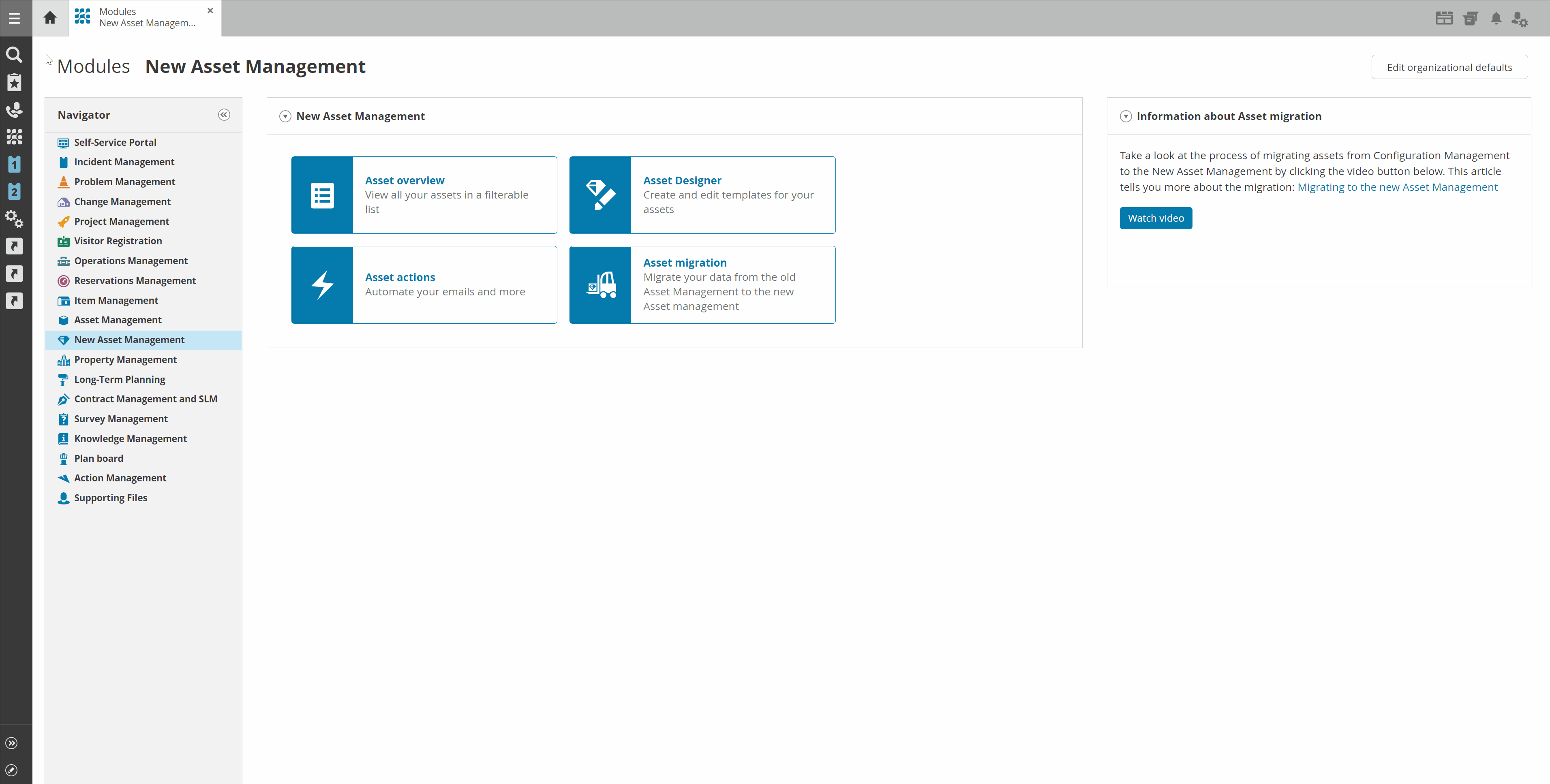 To expand:
The first part provides a high-level overview of all assets created within a specific year, grouping them by asset type and month.




The second, on the other hand, allows you to select a number field. The report then displays the sum of all the values—again, these are grouped per asset type and month.


You can even narrow down the results further within the filter panel. For instance, you can filter information according to the specific "assignment widget" (instead of simply filtering "all" information).
If you do decide to adjust the filter settings, you can save these changes as templates—meaning they're automatically ready to go for when you next want to use them.
Last but not least, you can also open a complete asset overview within the report by simply clicking on the numbers/values within the results table.
The Link With OData
Our recent work on the Asset Type Report has also positively impacted our OData performance. But wait—why is this?
For starters, the report itself is based on OData. Therefore, in order to make Asset Type reporting as effective as possible, we had to dive in and optimize the following parameters:
$filter
$select
$top & $skip
$query
Note: While the Asset Type reporting tool can use these parameters, they aren't automatically applied, or even supported by every business intelligence (BI) tool. Therefore, if you want to use these parameters, you first have to check that your BI tool supports them. If it does, simply go ahead and apply these parameters manually.
We've also added the asset assignment widget information to the OData feed, meaning you now have a greater range of filtering possibilities when creating reports in TOPdesk or in your own BI tool.

Give Us Your Feedback!
We're excited to demonstrate the work we've done to improve Asset Management reporting. However, we're far from done. Please check out the new Asset Type report and give us your feedback via the feedback button shown on the results page after triggering the report. That way, you guide our future developments and help us create a more valuable, more effective reporting tool.
We can't wait to hear your thoughts!