The old makes way for the new
At TOPdesk, our main priority is to offer you the best and easiest experience within our software. When it comes to Action Management, you might have noticed that there are two types of Action Sequence layouts: one that dates back to when we first introduced the functionality, and a modern one that includes additional features, a smoother look, and more durability. Easier maintainability that offers a more solid experience.
Wouldn't it be great to have this modern experience for all Action Sequences? Then we have some great news for you. To both simplify and improve your experience in your TOPdesk environment, we have developed some exciting changes to Action Sequences, which cover the structure of the module overview page and the possibilities of all Action Sequences. Keep on reading this blog to find out what this change entails for you and how to make the best out of it.
A low effort, high impact change
Before we dive into why we've decided to implement these changes and what we've been working on in the Action Management module, we want to highlight a couple of important things to keep in mind. This change will not require any migration on your end. You'll be able to keep working within Action Management without the need to change anything yourself. And, secondly, no functionalities or data will be lost in the update. In fact, this will be a low effort, high impact change that will introduce a bunch of new functionalities to your Action Sequences.
Why are these changes necessary?
You may be wondering why this change was necessary, and rightfully so. As mentioned above, up until now, there were two types of Action Sequences: Action Sequences for modules in the Action Explorer, and Action Sequences for Asset Management actions, together with webhooks and scheduled actions. The second type is also known as service-based actions. Service-based actions offer more modern features such as PDF generation, loops, sending emails in an Action Sequence, and more extensive logging.
Because we want you to have the optimal experience within TOPdesk, we will make these more modern features available for all Action Sequences in TOPdesk. We will do so by making all Action Sequences part of the service-based actions. Soon, without any effort, you will be able to enjoy an updated feature set for all Action Sequences, a new way of linking actions to events, and find all your Action Sequences in the same overview.
The new opportunities these changes will offer you
Firstly, all Action Sequences—both types mentioned above—will be moved to a new overview: the Automated Actions overview (see the screenshot below). Practically, this will mean that Action Sequences that you can now find in the 'Action Explorer' will move to the already existing 'Action overview', now found via 'Action Management > Webhooks and scheduled actions' or 'Action management > New Asset Management actions'. After this update, the Action Sequences will be listed together with 'Webhooks & scheduled actions' and 'Asset Management actions', with the option to filter on module and card type.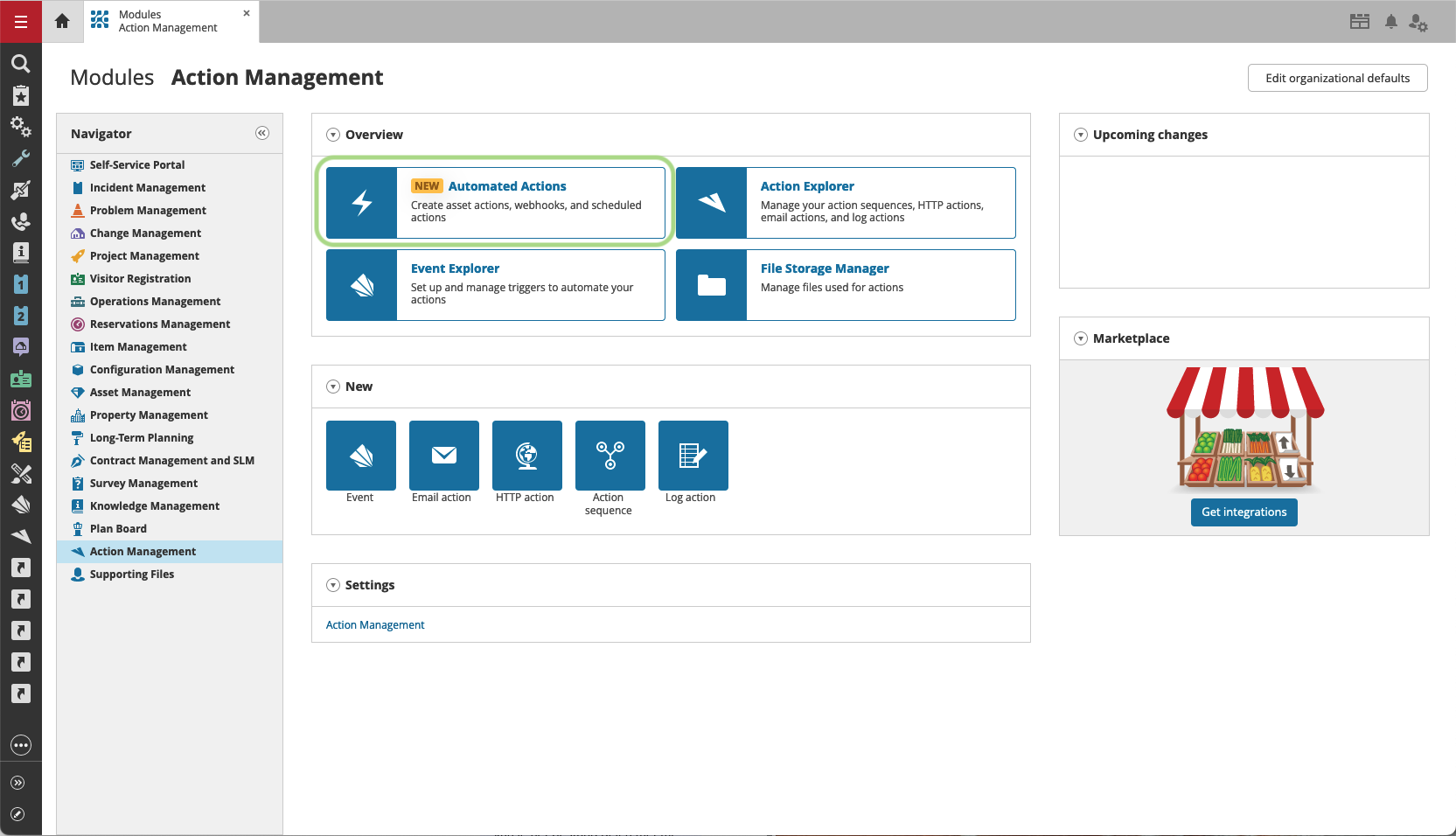 What's more, Action Sequences for all modules will be able to use the newly added features of which we already described some above: PDF generation, binary and multipart requests, sending emails in an Action Sequence, Variable Assignment steps, loops, and more extensive logging. Next to that, features that are available in the Action Sequences in the Action Explorer, such as a notes field, will be available for all Action Sequences after this update. We are making this change to make the development of actions faster and easier, and to create a more consistent experience in TOPdesk.
Last but definitely not least, the page where you link the event—or 'the trigger of an action'—will get an upgrade as well. The look and feel is different, but no functionality is lost: linking events or context menus to Action Sequences will work in the same way as they do now. What will be added is the possibility to link an action to events of various card types within one module. This means that you can, for example, trigger an action for first and second line calls at the same time. Say goodbye to duplicate work.
So, what's next?
We aim to deliver these changes on SaaS in Spring 2023. The Virtual Appliance release will follow later in 2023. Want to stay updated on any news regarding the upcoming Action Sequences changes? Keep an eye on knowledge item KI 15848 on My TOPdesk and watch out for webinar announcements on this topic, which will be coming soon.