In many countries, anti-COVID-19 measures have been in place for a while now. Lockdowns, social distancing and obligatory working from home are currently facts of life businesses need to deal with.
Fortunately, these new circumstances lead to creative solutions in all kinds of areas. Some make our current remote-working life easier, others look ahead to enable working in the office with social distancing measures.
At TOPdesk we have seen some great examples of TOPdesk-use by our customers which we'd like to share with you. There might be some useful ideas for you to implement in the short term or, if the conditions in your country allow it, it might offer insights for the post-COVID-19 days.
1. Use the Self Service Portal to support working from home
Using a portal is a no-brainer, especially at times when simply walking by the service desk isn't an option and work hours are a bit more fluid than they typically are. To limit the impact of working remotely on the business, you'll want your colleagues to have easy access to the information they need and to be able to reach you when they can't find the answer. If you do not already have a service called 'Working from home' (or similar), make sure you make one and your colleagues know where to find it. This can be your starting point for all knowledge and requests around working remotely (see the other tips below).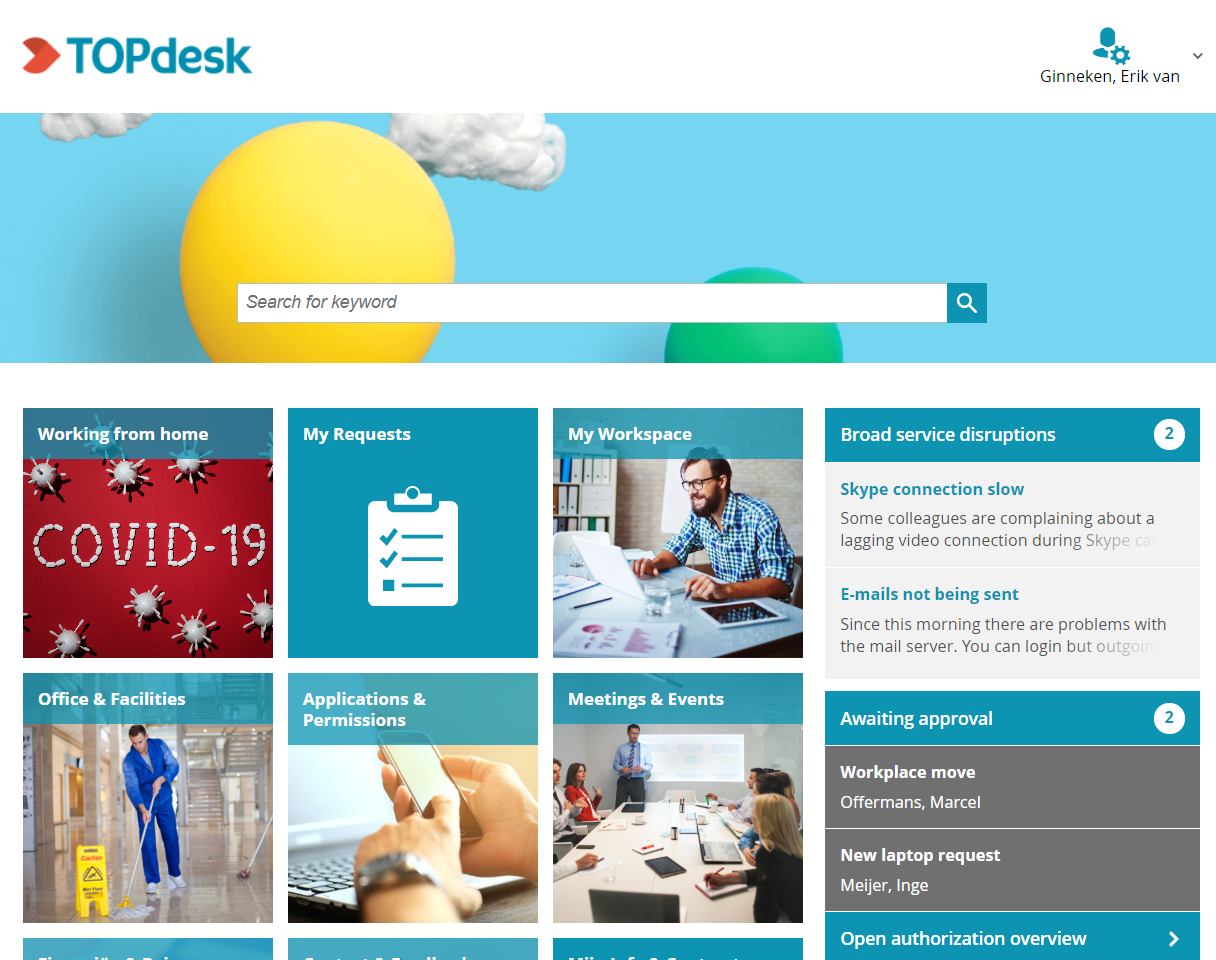 2. Order working from home-related hardware through a form
Many organizations have quickly arranged for hardware-lending services to support working remotely. Although you want to allow for easy requests and quick processing, you also really want to keep track of the requests and the hardware. If not, you might end up missing loads of monitors, headsets and mice when the worst of the crisis is over. Make sure you create a simple form: type of hardware required plus any information relating to delivery/pickup is probably sufficient. Set up the requests so that the processing is as simple as possible, since you'll probably be handling a lot of them at the same time.
3. Hardware breakdowns: block time slots for walk-in support
One of the biggest challenges of IT departments in the current situation is how to support hardware breakdowns for colleagues working at home. On the one hand, you need the colleague to come to the office to be able to check their hardware, on the other hand you want to keep their waiting time to a minimum. You can set up reservations management in TOPdesk to enable booking a time slot at your walk-in support desk. By asking the requester to refer to their ticket number, your support desk can have their information at hand in a second. Make sure to describe the service and process in your service catalogue and/or knowledge base, so your colleagues know what to expect and feel safe to visit the office.
4. Lending furniture with reservations
For most people, their workplace at home doesn't meet the ergonomic standards that are required in an office building. That's why many organizations are currently offering their employees the service of borrowing a desk chair or other furniture. To keep track of which furniture is where, you can add them to your reservations planner and create a reservation for the employee borrowing the furniture. Simple, but effective!
5. Use the Mail import functionality to create calls from your inbox
While we would advise to focus on the Self Service Portal as your primary channel of communications, the current situation has led to an increase of email as a means of contacting service desks (probably replacing face-to-face visits). When your service desk is receiving a lot of email, it can be time-consuming to constantly copy and paste everything into TOPdesk. If this is the case in your organization, make sure you set up the mail import. The mail import functionality allows you to automatically (or manually, if you prefer) create calls from the emails in your inbox. No more copy-paste, and all your calls are in one place!
The above suggests a number of things you can do during a (partial) lockdown. But even when the measures are relaxed and offices are allowed to open up again, organizations will be expected to take action to prevent a new peak in infections. The following tips are ideas on how to use TOPdesk to support the re-opening of your office.
6. Use standard services for your reservable meeting rooms to comply with social distancing guidelines
Chances are that once your office is allowed to open up, you'll still need to take some extra cleaning and distancing measures into account. To make sure people can use your meeting rooms safely, you can set up standard services for the room to ensure these measures are taken. Before each reservation starts, you want to make sure the room set-up complies with the required distance between seats. Add a cleaning service to the end of each reservation (if you don't have one already) to clean all surfaces in the room. Don't forget to block some time between reservations to allow for these extra services.
7. Use visitor registration to track the number of people in the office
When social distancing rules apply, your office simply doesn't have the capacity it usually has. You will need to limit the number of people coming in to the office at the same time. If you want to keep track of this number, you can use the functionality TOPdesk offers for registering expected as well as present people: visitor registration. Employees can register themselves as visitors when they want to come to the office, and you can keep track of the number of expected employees at any given day. Make sure everyone entering the building is registered and checked in, so you don't surpass the maximum number of people.
8. Workplace reservation
Another way to limit the number of people in the office is to require everyone to reserve a workplace before they come to the office. Make a well-spaced setup of your workplaces, add them to your TOPdesk environment as reservable assets and allow employees to reserve them in the Self Service Portal. A simple way to ensure that everyone has a safe, clean workspace.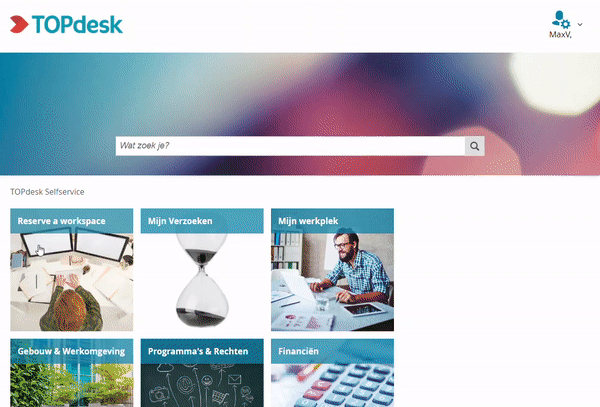 9. Share knowledge items with tips and procedures
Whether it's working from home or a limited re-opening of the office, everyone has to get used to a new situation and probably has a lot of questions. Make sure you write down the most useful remote working-tips or new office procedures in your knowledge base. Of course, you will add these to your dedicated COVID-19-tile in the portal (see tip 1), but also introduce them proactively on your company's intranet or similar. Nothing says "customer friendly" more than answering questions before they're asked!
10. Spend your extra time on improving your services
We've seen the current crisis affect each organization and department differently. While some are swamped with dealing with questions and infrastructure around working from home, other service departments have seen their agendas opening up due to a lack of people in the office and using their facilities. To the latter group I would say: use the time that is given to you wisely! You probably have had some ideas and initiatives on hold because you were too busy. Why not use the extra time to kickstart these and start improving your services and use of TOPdesk? In that way, there might come something positive from these hard times after all.
Are you using TOPdesk SaaS and would you like to try out one of the modules mentioned in this blog? You can easily activate a trial period for any module on My TOPdesk yourself!