Benno Richters
Managing Director TOPdesk Hungary
As managing director of TOPdesk Hungary I consider myself to be an entrepreneur. And as an entrepreneur I always fantasize about setting up new businesses. My current job is challenging enough, but that doesn't prevent me from happily entertaining these thoughts.
I want to start a consultancy business, advising other organizations on how to hire the best employees available. Want to join me in setting up this business? Give me a call!
But first things first: let me share my thoughts on having a great hiring procedure.
A TOPdesk Magyarország ügyvezetőjének írása. A magyar verziót elolvashatja itt.
Employees, employees, employees
Whatever services your organization delivers, they are being sold by your employees. Whatever feedback your customers have, they tell your employees. Whatever improvements your organization is working on, they are implemented by your employees.
Who do you trust with selling your products, with handling customer feedback, with innovating your business? Only the best of course. Good colleagues are essential to the success of any business.
Selecting the best applicants
At TOPdesk we pride ourselves on having a great company culture. We consistently score highly in best employer overviews. It's not something we achieve by paying unrealistically high salaries; we don't believe in awarding benefits as a tool to keep morale high. Instead, we find the best people who are motivated and can be trusted with our product, our customers and our innovations.The way we deal with recruitment and applicant selection is maybe the most thorough process we have. Here I'll highlight some of the elements of this process.
1. Diversity in the selection team
Job interviews at TOPdesk are mostly done by people from the team the applicant will be working in. Our colleagues from HR take responsibility for the whole recruitment and selection process, but they are not the only ones doing interviews. We believe, for instance, that it takes a good software developer to recognize a good software developer. This also has a clear benefit for the applicant: they'll get a chance to see who they'll be working with.
2. Create a profile
It is easy to enumerate the skills that your new colleague should have. If you are looking for someone in, say, an accountancy position, that person should be proficient in Microsoft Excel and good with numbers. But there is more to a good colleague than just skills. Think about what kind of person you and your colleagues want to work with. Who do you trust with all the sensitive accountancy data?
At TOPdesk we listed some essential personality traits that we look for in someone. The list includes intrinsic motivation, perseverance, creativity and respectfulness.
3. STAR
Having a profile is one thing, to test for it during an interview is another. In the brief time an interview takes place, it is hard to get to know the real person. You don't learn anything by asking the interviewee whether he would treat clients with respect. Every applicant will give you a socially desirable answer. How did we deal with this? By adopting the STAR method as our interview technique. It teaches you to always ask for real examples from the past and avoid what-if kind of questions. This takes some time to learn. That's why we organize sessions with an actor to practice asking the right questions.
4. Be respectful to applicants
Just as much as we expect our new colleagues to be respectful, we treat our applicants with the respect they deserve. After all, applicants make the effort to approach us and expose themselves with personal information.
We make sure to respond to our applicants in a timely manner. We are honest and transparent to them. At TOPdesk we strive to respond to every new applicant within one business day, and we want to complete the whole job interview process in two weeks maximum.
Sometimes it can be very busy – applicants seem to come in waves. Just like you report back to your customers even though there is nothing to report, don't wait too long with contacting your applicants. They'll already appreciate a simple message that it might take a few days before their application is processed.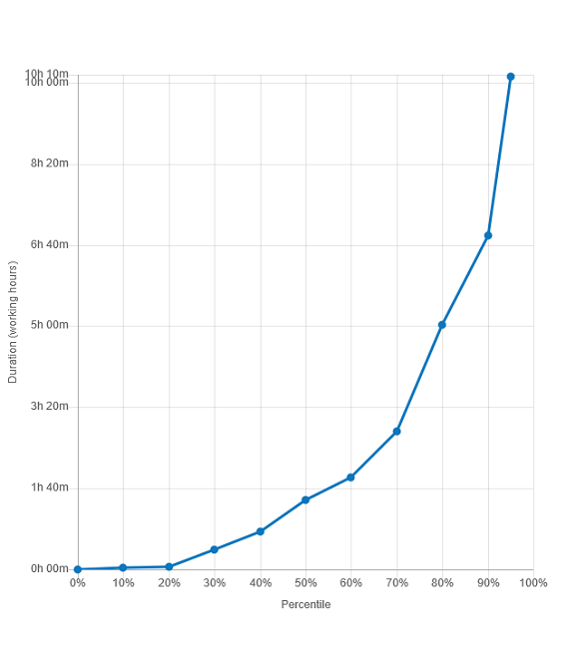 HR and Automation
Our selection process is supported by our tool TOPdesk. Emails from applicants are immediately converted into to-do activities and assigned to the HR operator group. A set of template emails is then available to the HR operator to help them give the most appropriate response. These emails will be personalized automatically to contain the name of the applicant, for instance.
Next to receiving emails, applicants are also given access to our Self-Service Portal. Here they can follow the status of their application, communicate with our staff and see the profile of the colleagues they will meet during the interviews.
After selection comes onboarding
When the selection team has selected the best applicant, is everyone's work done? Not really. HR has to make a contract, inform the payroll supplier and so on. The IT and Facilities departments also need to be involved now. The onboarding process just started. Do you want to read more about this challenging process?